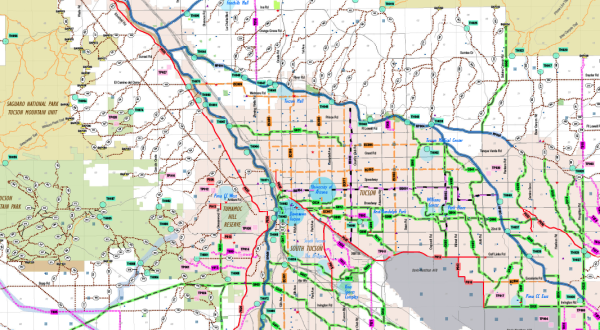 There are more than 400 miles of trail in Pima County for mountain bikers, hikers and equestrians to enjoy, but according to Pima County officials, it is only the beginning.
The Pima Regional Trail System Master Plan (click to download) calls for 2,275 miles of trails, which include, paths like The Loop and singletrack trails like the Tucson Mountain Park trail system. Here's a snippet from the master plan:
The updated trail system consists of 853 miles of existing and proposed trails, paths, greenways, river parks, bicycle boulevards, and enhanced corridors that connect regional destinations, parks, schools, and preserve areas. In addition, there are 1,422 miles of singletrack level trails. New trail segments range from small segments that infill the trail system to close gaps to long segments that criss-cross the southern area of Tucson where development is just beginning. The trail system includes trails parks, trailheads, and boundary access points to increase user access to the system.
Steve Anderson is the county's trail planner and is the person tasked leading the development of the trails in the county.
There are currently 10 trails in active development, but he said money and people to build the trails are the biggest challenges to building more trails.
Anderson said it would likely take $100 million to complete the system and they could certainly use volunteers to help build trails. People who are interested can email the county's Mark Flint to help build new trails.
Download the trails map and the master plan here.