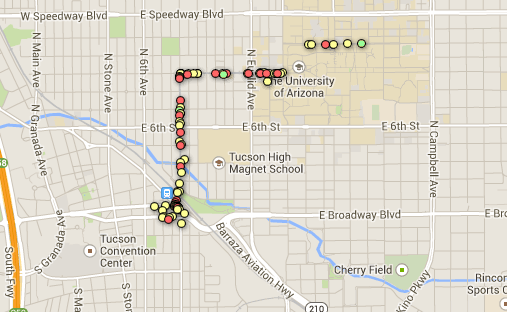 After almost 18 months and 86 streetcar crash reports, Living Street Alliance released the data they collected using their crash reporting tool.
Before diving into the results, it's important to recognize that it is extremely likely that the number is only a fraction of the actual crashes that occur along the streetcar route. Many of the people who crash because of the streetcar route likely don't know about the reporting tool or even the the advocacy organization.
That being said there are some interesting results gleaned from the data.
Here's what Living Street Alliance said about the data they released:
After 18+ months of collecting crash reports (August 2012 to April 2014), we've decided it's time to share the results of the reports we've collected so far using our Streetcar Track Crash Reporting tool. We went through all the reports we received and removed any duplicates we found, removed any reports that occurred on the older trolley tracks, and generally cleaned them up. The data we're releasing has been stripped of any identifying information. Bear in mind that unless an accident involves a motor vehicle, there is no police record and no data about the crash; we're collecting this data to make sure that safety can be improved for all road users in an evidence-based way.
Here are some of the interesting results:
• 69 percent of the people who crashed had more than 3 years of riding experience.
It may be artificially high because it's more likely that more experienced cyclists are plugged into the bike community and know about the reporting tool. But it also shows that even people who have experience can go down.
• 30 percent of the crashes resulted in "serious" injuries and 66 percent reported minor injuries.
• 58 percent of the crashes appeared to occur because of an outside force beyond rider error.
• 27 percent of the crashes occurred because of something blocking the bike lane including cars and people. 
• Main Gate and the Fourth/Toole/Congress Avenue intersection generated the highest number of crash reports. 
Check out the data and maps over on the Living Streets Alliance website. Does anything pop out to you?