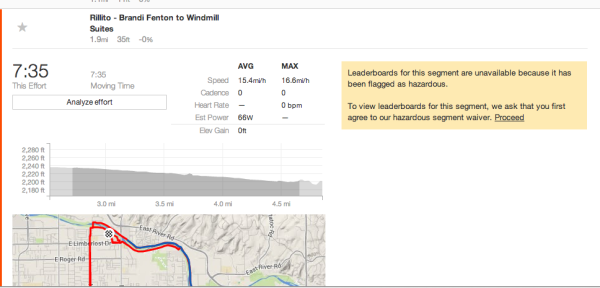 Dozens of Strava segments along The Loop have been marked as hazardous and essentially removed from the competition portion of the site.
A page for The Loop mentioned the removal on Tuesday.
Flagging a segment as hazardous is a way for a Strava user to alert others of danger. A segment may be flagged as hazardous for a number of reasons: road construction, blind corners, pedestrian congestion, intersection crossings or stoplights, among others. Though the reason for a flag may vary, when a flag is created it means that the segment is generally unsuitable for competition.

After a segment has been flagged, Strava will automatically apply certain restrictions:

Goals cannot be set on flagged segments.

Achievements (PR, KOM, etc.) are not awarded for flagged segments.

Leaderboard and rankings are removed for flagged segments, unless you agree to the hazardous segment waiver. Users will have to agree to the waiver for each hazardous segment they want to view.
The user who flagged the segments may argue the path is not an appropriate place to compete. The county certainly would agree. They issued an open letter to cyclists asking them to slow down on The Loop.
To view a segment leaderboard, a user has to agree to the hazardous segment waiver. A random flagged segment along the Rillito I viewed had a leader with an average speed on the north side of the path from Brandi Fenton Park to Campbell of more than 29 miles per hour.
What do you think? Glad the segments are gone or will you miss them?