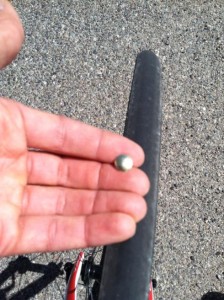 More tacks have appeared on Mount Lemmon Highway.
Tucson Velo reader Garry Segerman sent me the following email:
Just wanted to let you know a few of us were riding up Mt Lemmon this morning & there were a bunch of tacks thrown in the bike lane just south of the intersection of Catalina Hwy & Houghton Rd. It actually looked like they were all placed upright. Not a one was on it's side. there were about 18 of them & we threw them off onto the side of the dirt to get them off the road. I did call the Sheriffs Dept. after to inform them. Don't know if they are going to do anything or if they can. I was told by another rider that I should leave them alone & leave them on the road, but this just didn't seem safe to other riders. SO we did throw them into the dirt to get them out of the bike lane. Did not see any in the road itself.

Check out the map below to see some of the reported locations of the tacks.

This is the second time tacks have been found at that intersection.

Given the positioning of the tacks it is one more indication that the tacks were deliberately placed there.

View Tacks in a larger map