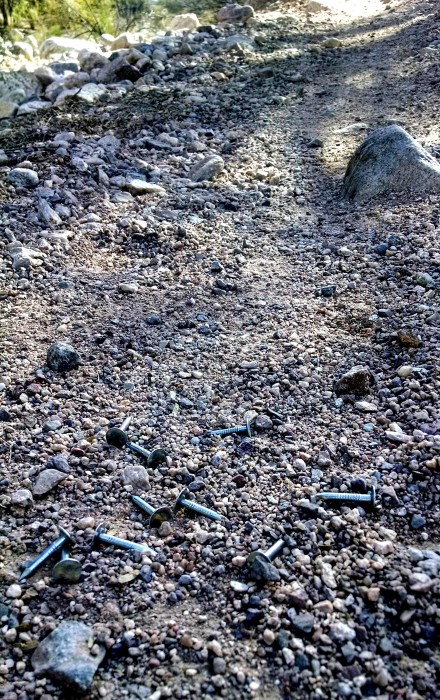 Not even mountain bikers are immune to disgruntled residents who take out their frustration on cyclists with sharp objects.
Several piles of nails were discovered this week on the Finger Rock Wash trail, which is also know was the Urban Assault trail.
Tucson Velo contributor Jay Rochlin lives near the trail and was out hiking with a friend when his hiking partner spotted several nails in the middle of the trail. They moved the nails out of the way.
"Later he noticed a whole pile of them right in the middle of the dirt bike trail," Rochlin wrote " This time I put it together and realized they were placed there on purpose. Then we saw another batch.  I haven't read or heard about that path being targeted, but I guess it is."
The trail, which snakes between many homes, is popular with mountain bikers because it is close to the city and is easily accessible.
If Strava is any indication the trail has become more popular in the last year and could be creating more conflict between cyclists and residents who live along the trail.
Have you spotted any nails or had any negative interactions with people on the trail?