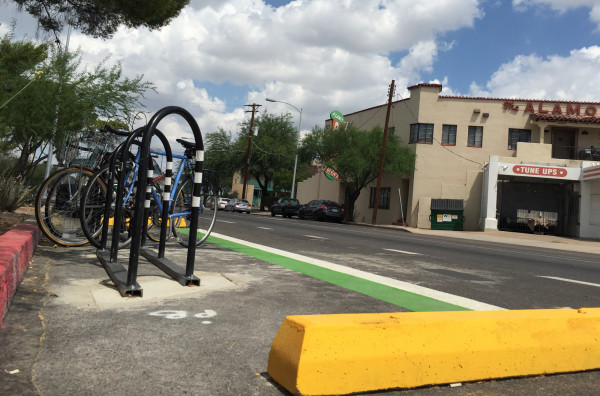 City cyclists have two more bike parking options in and around downtown.
The City of Tucson has installed two new bike corrals.
The first was installed on Sixth Avenue just south of Congress Street in front of the new Johnny Gibson market.
Tucson's new bicycle and pedestrian planner Andy Bemis oversaw the installation of the new racks.
Johnny Gibson's Downtown Market requested the corral because "they wanted to facilitate getting there by bike," Bemis said.
Bemis said the location was ideal because the city didn't have to take out a parking space to get the corral in. Instead it was an unused part of the roadway that could be used more effectively.
The second corral was installed further south at the Five Points intersection where Stone Avenue, Sixth Avenue and 18th Street intersect.
"In this case it provides bike parking where there was none," Bemis said of the location which is home to three businesses including two restaurants.
"We went from no bike parking to a corral being fully used the next weekend," he said. "It has affirmed if you build it they will come."
Beamis said the city is currently working on adding two more corrals to downtown. The first will go in on Congress Street and Church Avenue in front of Street Taco. The second will go in on Pennington Street in front of City High School.