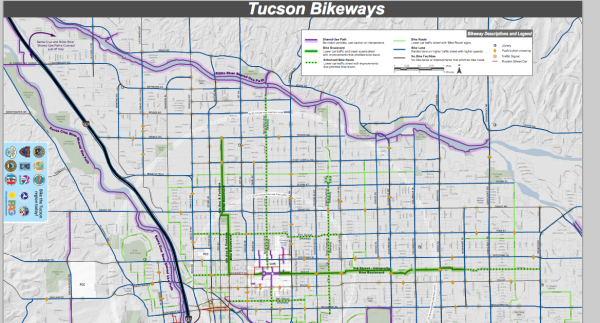 A new supplemental Tucson bike map released yesterday aims to highlight city bike routes that have lower volumes of cars and are more comfortable for cyclists.
The map, which has been in the works for months (read the October story here), highlights six different categories of bike infrastructure including; Shared-use paths, bike boulevards, enhanced bike routes — routes that prioritize bike travel —, bike routes and bike lanes. The map also shows cyclists where they can find crossing signals along major arterial streets.
Two circles radiate around the the University of Arizona indicating the approximate time it would take to ride to the UA. The first circle suggests if you live inside of it, it would take about 10-15 minutes. The second suggests it would take 20-25 minutes.
The map folds up to the size of a credit card and according to Ann Chanecka, the city's bike and pedestrian program manager will be available at bike shops, ward offices and libraries.
In the interim, you can download the map here. The map was created by the Pima Association of Governments with the help of the City of Tucson and the University of Arizona.
What do you think of the map?