New sharrows along Fourth Avenue appear to place cyclists in or dangerously close to the door zone. (Check the video at the end of the post to find out what the door zone is.)
City crews Contractors placed the pavement markers heading south on Fourth Avenue between the streetcar tracks and the parked cars.
The sharrow above is the first sharrow cyclists encounter heading south on Fourth Avenue after passing University Boulevard. Assuming cyclist would ride directly down the center of the sharrow, a rider would hit a parked car.
It's unclear if parking along that stretch will be eliminated and the Ann Chanecka, the city's bicycle and pedestrian program manager could not be reached for clarification.  Even if parking is removed at that location, riders will have to move away from the curb to avoid parked cars further down the road presenting challenges with merging into traffic.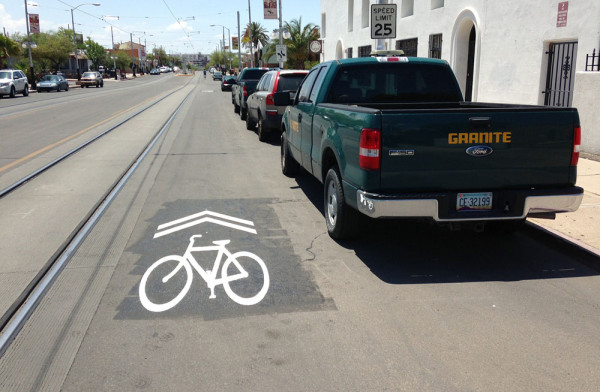 The center of the next sharrow, which you see above, is 4.5 feet away from the edge of this track, which is parked very close to the curve. A cyclist riding down the center of the sharrow would likely crash into the door if it was opened.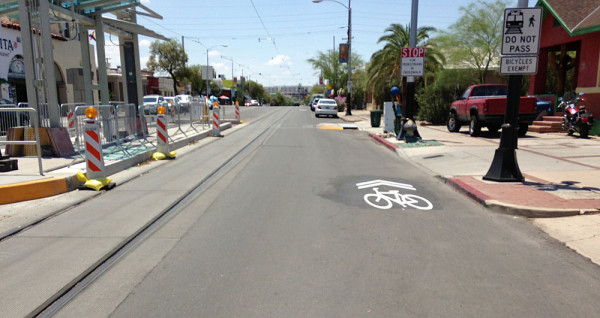 When cyclists get to a streetcar stop, the sharrows move toward the curb. Again a cyclist will have to merge back into the travel lane. It is safer to remain near the tracks to prevent a car from trying to pass and avoiding a conflict when moving back into the lane to avoid parked cars.
As you can see from this image, riding down the center of the sharrow would likely result in a collision since on average, handlebars extend about nine inches on either side of the bike. This motorist is not within the white lines, but as we've seen, that is common practice on Fourth Avenue.
We will follow up with the city to see if any adjustments will be made.
Regardless of the new sharrows, I will continue riding a few inches to the right of where the concrete and asphalt meet. What about you?