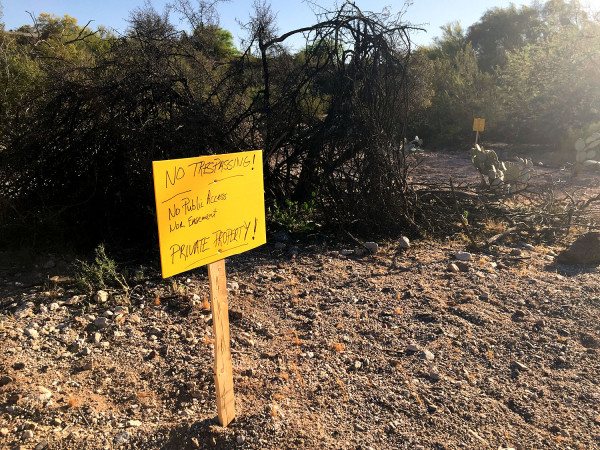 A homeowner along the Urban Assault trail in the Catalina Foothills has had enough of mountain bikers, hikers and walkers cutting through his land.
Andrew Pinnell has lived on the corner of Alvernon Way and Camino Llanoso for about five years. Last week he posted about a dozen no trespassing signs on his property and expects people to obey the rule of law.
Pinnell said he's seen an increase in the number of people riding the trails and seen more of them riding through late at night shining their lights into his bedroom as they look around.
"I counted 200 people come through one weekend," he said.
Pinnell has been stopping people continuing to try to use the trail that cuts through his property and reports have said some of the interactions have become heated.
According to Pinnell there isn't a lot to say other than than it is his property and he doesn't want people cutting through it.
As discussed in an earlier post about access issues on the Foothills trail, their is a hodgepodge of ownerships and easements along the short trail.
The trail has seen an increase in use as mountain biking has become more popular, which has led to increased access issues around the region.
Mountain bike advocates are asking trail users to ride down Alvernon Way after exiting the dirt on La Espalda Road.