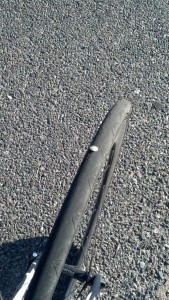 The Sheriff's Department is urging bicyclists to call their office each and every time they find tacks on Catalina Highway.
Deputy Ryan Roher said at Wednesday's Tucson-Pima County Bicycle Advisory Committee that the department needs as much information as possible to catch the person who is doing it, which means cyclists need to call.
He also said calling has the added benefit of making it a higher priority.
Cyclists can call the non-emergency line (351-4900). Cyclists can also file a report online.
I received reports fo two more flats caused by tacks, but these were closer to Tanque Verde Road.
KVOA news is getting in on the story and is airing a investigation into the tacks. The editor who sent a short promotional video for the story said it is a "very revealing investigation."
The story airs at 10 p.m. on KVOA channel 4. Here is the promotional video.

View Tacks in a larger map