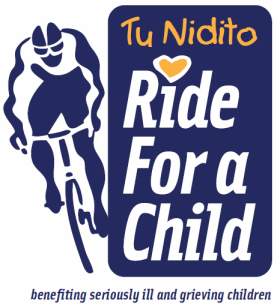 Who are you riding for?
That is the question Tu Nidito Ride for a Child organizers are asking cyclists who plan to participate in November's El Tour de Tucson.
Each year, Tu Nidito — a non-profit that works with children and families who are grieving or facing serious illnesses like cancer — hosts the Ride for a Child program.
Tara Gibson, the organization's marketing and outreach coordinator said cyclists who participate in the Ride for a Child program by agreeing to raise $500 get several perks.
They include:
Free entry into the 31st El Tour (paid by Tu Nidito)
The story and photo of a Tu Nidito child to ride for
A Ride for a Child jersey
A customizable fundraising webpage
An El Tour event t-shirt and poster
Regular Ride for a Child group rides
A pre-ride dinner and celebration where the cyclists meet the child they are riding for
Gibson said about 25-30% of Tu Nidito's budget comes from regular entry fees from El Tour de Tucson registration and the Ride for a Child program.
The money helps fund the organization's mission of "creating a community of acceptance, support, and understanding regarding children in grief. It is our vision that no child grieves alone."
Gibson said more than 800 children were helped by Tu Nidito is 2012.
Helping kids is what hooked Ride for a Child cyclist Steve Morganstern.
"For me it was seeing where the money was going, the lives it touched and would help," he wrote. "You don't get that from donating to other charities. I know it is not about what I get out of the donation but it is heart warming and really makes it worth doing."
He said the $500 donation was surprisingly easy to meet.
"If more cyclists participated in the Ride for a Child program for El Tour Tu Nidito would have such an opportunity to do more for more families," Morganstern wrote.  "There are 9 to 12 thousand riders in El Tour and while a portion of the entry goes to Tu Nidito, raising at least $500 per rider is, well you do the math. To get the support it is as simple as asking family, a few friends or an employer. I was amazed how fast and how easy it was to reach that simple goal."
Tu Nidito would no doubt be thrilled to get thousands of people to participate in the program, but for now their goal is 200 cyclists.
For more information, check out Tu Nidito's Ride for a Child event page or join one of the twice monthly El Tour training rides, which are often led by Jimmy Riccotello and are open to anyone.
You can also learn more about the organization here.