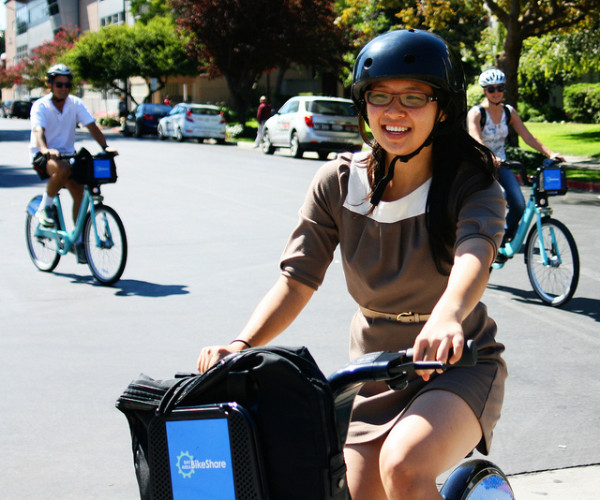 Tucson's potential bike share system is continuing to move closer to becoming reality. The city recently hired a consultant to study the feasibility of creating a bike share system in the city.
Ann Chanecka, the City of Tucson bicycle and pedestrian program manager said the consultant has a lot of experience with bike share programs and will look into how and if a bike share system will add to the city's transit options.
"They will be looking at whether or not bike share makes sense for Tucson," she said.
The city is also putting together an advisory committee made up of various interest groups.
Bicycle advocate Kylie Walzak was appointed by the Tucson-Pima County Bicycle Advisory Committee to represent them on the committee and said she is looking forward to the study and implementation of a bike share program in Tucson. Here's what she wrote about here participation on the committee:
What I think is most exciting about the potential of bike share in Tucson is to increase the use of the bicycle for every day errands and transportation and to break down the categories of who sees themselves as a "bicyclist" vs. a person who bikes for transportation when it makes the most sense. As a member of this panel, I am motivated to learn about best practices that will ensure our program serves as many potential users as possible. I encourage people who would like to share their thoughts on this to contact me, kwalzak@gmail.com
Chanecka said there will be opportunities for cyclists to participate in open houses to help define what they would like to see in a bike share system.
The best opportunity according to Chanecka is an open house coming up on Monday, Oct. 6, 2014 at the Main Library in downtown Tucson. The open house will be in the basement and begin at 6 p.m.
Chanecka said she is hoping to move fast and is excited to work with a consultant that has so much experience. She said there have been places that have seen a lot of success and places that have face a lot of challenges .
What do you think? Would you like to see bike share come to Tucson.