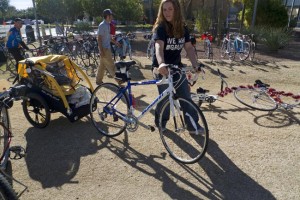 Living Street Alliance is taking the worry out of leaving your bike at this weekend's Tucson Meet Yourself.
The advocacy organization received a assistance from Visit Tucson, Tucson's Bicycle and Pedestrian Program and Pima County's Clean Air Program to provide free valet bicycle parking at events and will pilot it at this weekend's event. They will setup along the west wall of the Main Library.
Tucson Meet Yourself takes place Friday through Sunday and is located at El Presidio plaza in downtown Tucson.
Here's what LSA said about the valet service:
Tucson is home to thousands of annual events with many of them taking place during cooler months – October through April. As use of the bicycle for transportation increases across the region – BicycleTucson.com reports "Tucson bike commuting has risen by 75 percent since 2007 according to the most recent American Community Survey data released by the US Census Bureau" – bicycle parking everywhere is in higher demand.

To address this issue and to help festival and event organizers across the region green their events, Living Streets Alliance will launch its new Bike Valet parking management service this week at Tucson Meet Yourself. "By providing a bicycle valet at your next event, you're reducing the event's impact on traffic congestion and carbon emissions," explains Kylie Walzak, Program Manager at Living Streets Alliance, "and you give more people more transportation options, while freeing up parking spaces for people who need access to them."

The Living Streets Alliance Bike Valet service provides secure bike parking for festivals, fairs, concerts, sporting events, neighborhood events, and more. The service includes on-duty valet attendants to park and monitor bikes during the event, and lightweight, mobile, event racks that can park up to 70 bikes reducing the carbon footprint of an event and negative traffic impacts on the surrounding neighborhoods.