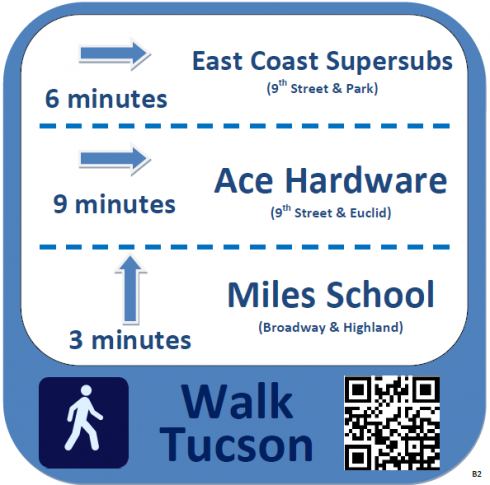 I'm attracted to the idea of Tactical Urbanism, which uses quick, often temporary, cheap projects to make a small part of our city more vibrant, lively, or enjoyable. It also allows new concepts to be tested before making substantial investments. Ultimately, Tactical Urbanism is a way to prompt larger changes by showing what is possible without the burden of permits and insurance.
So when I read about a group that installed simple pedestrian wayfinding signs in downtown Raleigh, NC I was excited about how we might be able to replicate it here in Tucson. This type of project fit perfectly with ongoing efforts in my neighborhood, Rincon Heights, to promote walking and cycling as transportation options. I also had a bit of a head start with the destinations identified during the Walking Workshop held in my neighborhood last October.
The Raleigh team, Walk Your City, also provides online templates and guides for the signs, which I used to create a custom sign template. I also included a QR Code that links to a Google map of destinations within and around our neighborhood.  Printing 35 signs on corrugated plastic at a local print shop and zip ties to hang them cost about $200. I recruited an anonymous friend to help hang the signs along the primary walking routes through the neighborhood and at key intersections.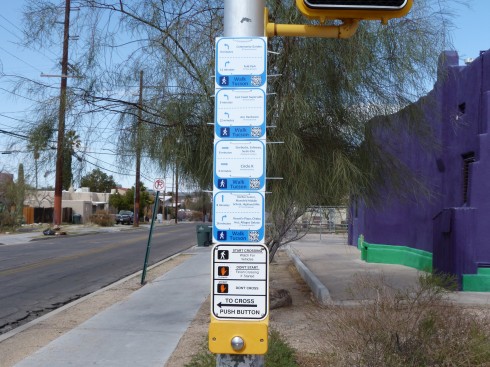 So I don't have any expectations that this small effort will suddenly bring throngs of walkers to my local sidewalk. But I do hope that it will help stir conversations about how wayfinding can help make walking a more realistic option for people's daily errands.
What do you think? Can small do-it-yourself efforts like this inspire bigger changes?