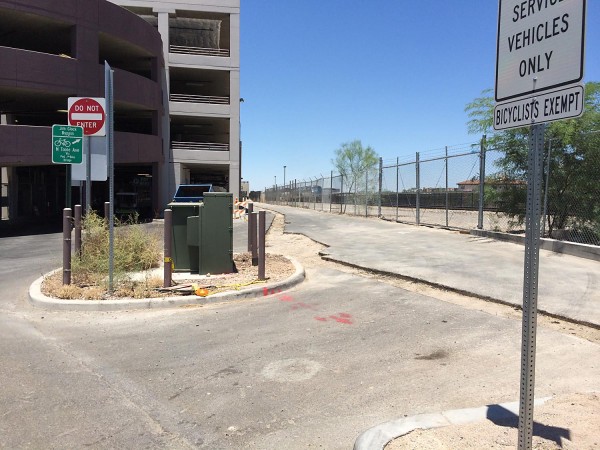 For the last several weeks cyclists who use the recently reopened Jim Glock bypass have had to deal with a new hazard.
A foot-wide and six-inch deep ditch in the asphalt, appeared early in June. The ditch forces cyclists to dismount their bike or try to hop over the cutout as I witnessed two cyclists attempt to do last week.
The cutout is particularly hard to see at night and nothing has been done to highlight the hazard or accommodate cyclists.
The project is unique in that it is private property, but an agreement with the city allows them to use it as a bike path.
Ann Chanecka the City of Tucson's bicycle and pedestrian program manager said she isn't clear why the ditch is there, but was told it will be filled in by Thursday before it is supposed to rain.
The bypass is popular with cyclists who want to avoid as much of the Congress/Toole/Fourth Avenue intersection as possible.
The path was closed for construction of the student housing and recently opened bar, but was re-opened at the end of May. The ditch appeared shortly thereafter and making the bypass a challenge to use.
Check out a few more photos of the route: