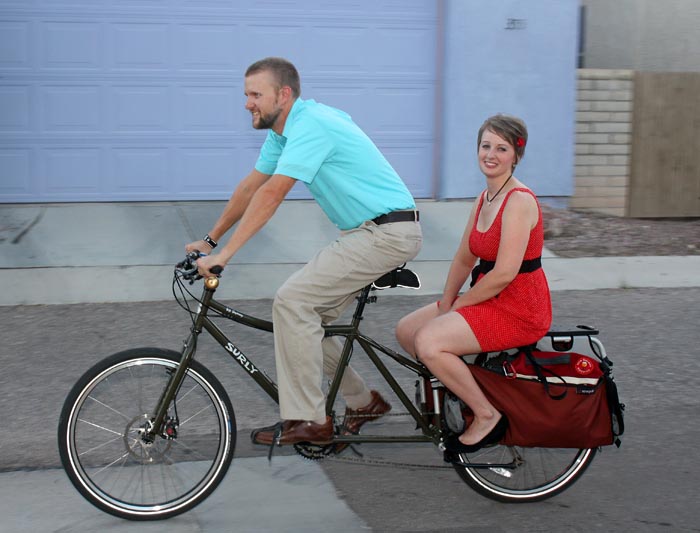 My wife, Irene, and I celebrated our eighth wedding anniversary last night.
As with most people, our lives are very different than they were eight years ago. When we got married I was obese and stayed that way until two and a half years ago when I picked up riding bicycles.
I could write for hours about how much a bicycle has changed my life, but suffice it to say without a bike, my life would be different. At the very least, it would be 135 pounds different.
Irene didn't know going in to our marriage that I'd become as obsessed with bikes as I have become, but she has come along for the ride. Literally.
We've gone on bike dates before, but this was our first car-free anniversary. Our trip was 13 miles from our house to downtown Tucson for dinner, Fourth Avenue for coffee and star gazing on the university mall.
As we were coasting down a deserted stretch of road on our way home, we realized getting to and from your destination on a bicycle is part of the fun. I suppose we already knew that, why else would we dress up and then ride downtown, but it became so apparent last night.
Seeing the moon and stars, feeling the air get cooler when you enter a wash, listening to the silence and truly experiencing the world around us, were all moments we would have missed had we been in a car.
I've been covering bicycle news in Tucson for 9 months now, but sometimes it takes a ride like this to remind you the most important thing about riding bikes. It is a joy.
Happy anniversary, Irene. Thanks for coming along for the ride.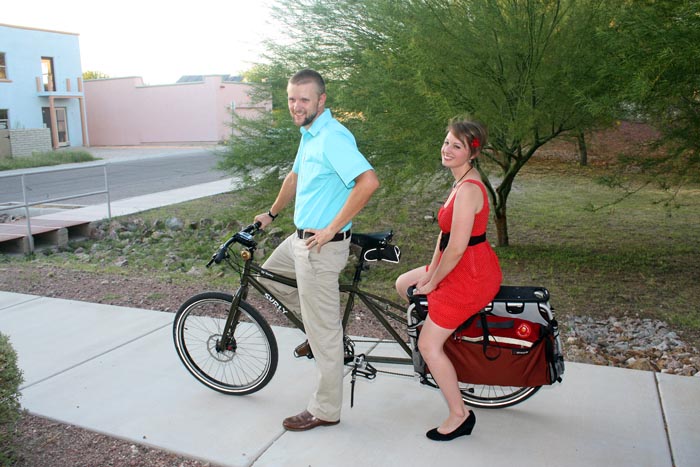 In the comment section, Christian asked if I would include an image before I started riding. The photo below happens to be the week that I first started riding.