Despite moving the loading zone on Park Avenue, adding a sign alerting motorists to the change and adding a fresh coat of red paint, this police officer still blocked the lane forcing cyclists into the streetcar tracks.
According to section D of A.R.S. 28-815L: A person shall not operate, stop, park or leave standing a vehicle in a path or lane designated as a bicycle path or lane by a state or local authority except in the case of emergency or for crossing the path or lane to gain access to a public or private road or driveway.
As Luci and I approached the car, I assumed the officer was responding to a call of some sort, but then I saw the officer come out of Paradise Bakery with a bag of food.
Here's the sign that is right next to the officer's car: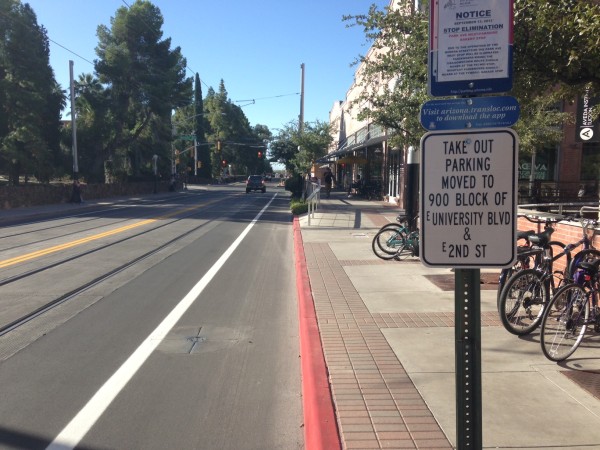 I told the officer, I was going to wait for him to leave because otherwise I would have to maneuver my bike over the tracks and that they made the area no parking to prevent that dangerous situation.
He mumbled something and drove away.
I keep hoping police officers will begin enforcing the parking violations along the route, but some can't even seem to follow them.