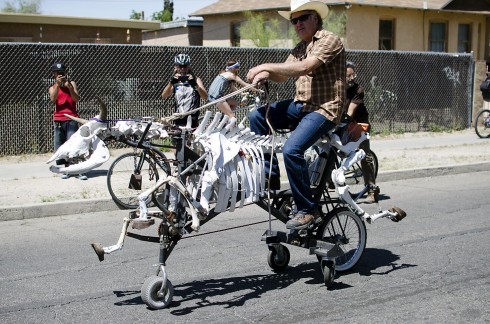 What a difference a year makes. A year ago the cold and rain dampened the spirits of the few people who attempted to ride the 2012 Cyclovia Tucson.
The weather cooperated this year and thousands of bicyclists, pedestrians and even a mechanical cow hit the streets in downtown and South Tucson.
Cyclovia organizer Kylie Walzak said via text message that the event went flawlessly.
She said they did not yet have an estimate of the number of people who participated in the event.
Representatives from Pima Association of Governments were at various points along the route counting the traffic and surveying participants.
Walzak said they wouldn't get the tally until later today at the earliest.
Check out the images below and updates from around the web:
2013 Cyclovia Tucson
Storified by Tucson Velo· Sun, Apr 07 2013 19:59:30
Tucson's fourth Cyclovia attracted thousands of people to downtown and South Tucson.
Following last year's cold and wet ride, the 80-degree weather was welcomed by many along the route.
Check out the day's events through social media.
Photos: 2013 Cyclovia Tucson I – Tucson Velo
People are starting to show up for #cycloviatucson. ow.ly/i/1QaPeTucson Velo
Time to have fun in the streets! Cyclovia is sooo awesome!!! #CycloviaTucsonColin Holmes
#streetart #tucson #cycloviatucson #cyclovia instagram.com/p/X021EJJqRq/Duncan Benning
Cyclovia Tucson brought all ages to the streets for a car-free ride ow.ly/2w145gKVOA News 4 Tucson
#cyclovia #cycloviatucsonxugardust
#southtucson #cyclovia #cycling #streetpartyIddy
#cyclovia #cycloviatucsonxugardust
2 hrs straight cyclin' #cyclovia #tucson #bike #swag #bikeswag #tshirts #waterbottles #bookmans #sundayfunday #fun #sun #friends #spring #love christieena
Great ride! #cyclovia #bikeride #springtime #bike #downtown #arizona #tucsonlife #instagood #sundayfundaysassycrm
#cyclovia was a blast today! #tucson keep up the PMA!!!Ramon Olivas
The 23 hula hoop challenge!! #cyclovia instagram.com/p/X0NFcdI4Hp/Kristi Pallack
Join the fun at #cyclovia Tucson! pic.twitter.com/T64ivNYq92James MacAdam
#CYCLOVIA…come join us! pic.twitter.com/vgstyteGBPTucson 12
Come visit us DT at Cyclovia!! 🙂 #BensBells #BeKind #SundayFunday #Cyclovia @ Armory Park instagram.com/p/X0Ag0PuVZ1/Stephanie Karina
We're at #Cyclovia today at Ochoa Elementary showing people how to load their bikes on the #sunTran bike racks. Come out and enjoy the fun!Sun Tran
Cyclovia! instagram.com/p/X0CdsJvBM-/Randi Dorman
We are out at Cyclovia this morning. Corner of 4th and 21st next to Santa Rita skate park. Come out… instagram.com/p/Xz62nWKZEi/Premises Park
Cyclovia 2013…south Tucson. ..nice day to be outside pic.twitter.com/JIMUxWOamqmichele orduna
#cycloviatucson This is what Cyclovia is for: pic.twitter.com/YS2o5QbXd3Cyclovia Tucson
Ice Creams on #Cyclovia Tucson instagram.com/p/X0Qjj2h2eC/Brett S.
Super volunteers at #cycloviatucson! pic.twitter.com/eLIRzpL3wBJames MacAdam
#cycloviatucson pic.twitter.com/veQ6oCZtJoJames MacAdam
Coolest map ever! #cycloviatucson #southtucson #tortuguitas instagram.com/p/X0ewyeMki8/La Calle
"@cycloviatucson: #cycloviatucson and this! Streets full of bikes! pic.twitter.com/7NUyECmFb0" Very fun eventAZphilanthropy
Enjoying some mini doughnuts at #CycloviaTucson pic.twitter.com/zHp7PRwb9gRob W.
#cycloviatucson Did you see the cow bike?! pic.twitter.com/DhBqHLXGhdCyclovia Tucson
Spent the morning at #cyclovia with 3 three year olds and 2 adults. We all had fun and there were very few tears. Now time for #coffee!RevolutionaryGrounds
Wheww! What a fantastic day for Cyclovia and what fun it was! Thank YOU! AND the fun doesn't stop…Tomorrow… fb.me/Tm6bDAwDTucson Bike & Ped
My family had a fabulous time at #cycloviatucson .Would love to see it every w/e across town. Ward 6? @JRothschildAZRachel Miller