Arriving in Portland, it doesn't take long to realize you are in the biggest cycling city in the United States.
From the bike repair/assembly stand in the Portland Airport, to the estimated six percent of the population riding bikes — Portland has earned it's reputation.
It is hard to go anywhere in the city without encountering bikes.
Our trip to Portland was a family vacation, but I managed to squeeze in a few rides and got to do a little work while I was there. My daughter went on her first utility bike ride and I managed to tour Portland with three bicycle planners. Check out the route.
Tom Thivener, Tucson's bike and pedestrian program manager, happened to be in Portland with his daughter for some of the same days we were there and organized a ride with Greg Raisman, a City of Portland bicycle planner and Steve Durrant, a planner with ALTA Planning and Design. Durrant specializes in non-motorized transportation and works with the city on many projects.
I'll try to share some of the unique observations I noticed from riding, walking and driving in Portland.
Even on a Sunday morning in an otherwise dead downtown, there were still dozens of people riding the streets and the river path bordering downtown.
Another thing you notice right away is that all of the streets are much smaller. You don't often see a street with more than four lanes and the neighborhood streets are often only wide enough for one car to get through because many people park on the streets. The narrower streets make it easier to cross because you have less lanes to navigate and it slows drivers down.
Portland has far fewer dedicated pedestrian and bike signals, but the drivers we encountered were far more courteous. Several times, drivers stopped to let cyclists cross the street. It wasn't just a few times, but dozens. I even had a bus give me a friendly honk and stop the traffic behind him to let me cross. Because most of the streets were one lane in each direction you didn't have to worry about the other lane stopping too.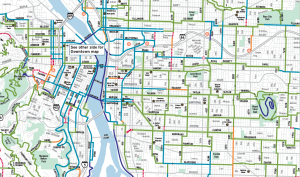 It appears Portland uses their bike lanes more as a way to get cyclists onto their lower trafficked streets that utilize sharrows, which are pavement markings indicating both bikes and cars should share the lane. Download Portland's bike map to see how bike lanes and bike boulevards connect to each other.
Raisman said the city is trying to make a complete transportation system and is working on buffered bike lanes, cycle tracks and bike boulevards.
"In my view you want a complete transportation system," Raisman said. "You are not getting people to teleport from their house to the esplenade. You need a full network and it has to be a diverse network. If they are going to a restaurant, they've got to get to the reastaurant. Sometimes you can provide a bike corral in a strategic place and they might walk a block. A lot of times you need a bike lane, a cycle track or buffered bike lanes for that part of the trip, so it has got to be a complete system."
Although the system needs to be complete, Raisman said the  fastest growth will be in bike boulevards.
"As of last year we had 29 miles and had 24 percent of houses within a half mile [of bike boulevards]," he said.  "Within five years we will have 130 miles that have 85 percent of houses within a half mile."
Raisman attributes much of Portland's bike traffic to the addition of their bike boulevards.
"It is our bike boulevards that are driving that volume because it serves such a wide swath of our community," he said. "It is kids, seniors, families and guys that are road bikes riding fast. I think that it is huge for driving demand."
But Durrant said it doesn't have to be an either/or proposition when it comes to deciding whether to build bike boulevards or bike lanes.
"It is like saying, 'Should we not pave the neighborhood streets because we are paving arterials.'" Durrant said.
At this point, I'll post some photos of the interesting Portland bike sights and explain what they are.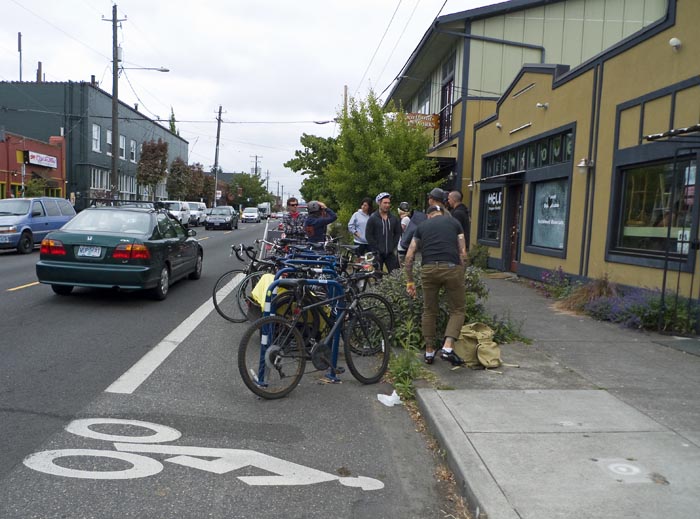 There are bike corrals everywhere. Some of the streets that are similar to Tucson's Fourth Avenue had more than 10 on a street.
City employees park their bikes in the parking garage below their offices
According to Raisman in addition to using bike boxes to increase safety, in some locations they are using bike boxes because there are so many bikes lining up in the bike lane that they can't get through a single light. Now they are also using the bike boxes as a place to store the bikes during the red light.
Pedestrians and cyclists share a path over the Hawthorne bridge out of downtown.
Green paint calls attention to a particularly problematic crossing. According to Raisman, drivers have been trained to look for cyclists at this intersection. This particular driver waved at us as we went by.
Raisman calls this a truck apron, which moves the pedestrians and cyclists farther out so that they can be seen and have a better view of oncoming cars. He said it is designed so that trucks won't take out the curb with their wheels.
Durrant, left, Thivener and daughter Saskia, center, listen as Raisman explains the truck apron.
Portland utilizes these signs that tell you how far destinations are both in distance and in time. Durrant said he likes that they added the time because some people think three miles is really far, but 17 minutes seems easy to do. According to Raisman the time is based on a 10 mile-per-hour average.
This is a left turn bay for bikes. The idea is to make it easy for bikes to turn onto the bike boulevard, but prevent cars from accessing it.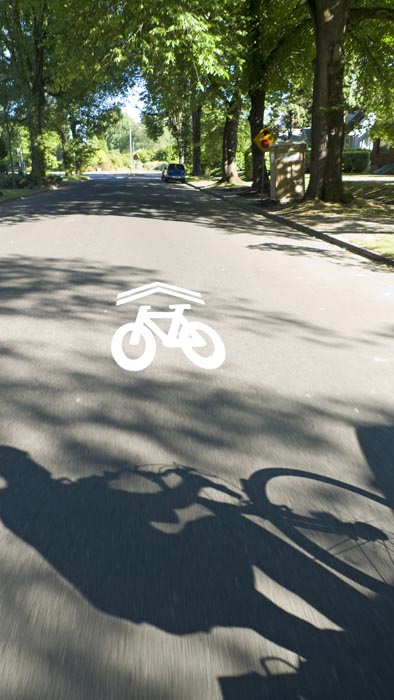 Portland uses sharrows to tell both drivers and cyclists that they are on a bike boulevard.
They also use this small marking with a directional arrow to show the cyclists which way the bike boulevard continues when it comes to a jog in the road.
The city built a path along the river that is popular with cyclists and pedestrians.
At the end of the bike path along the river, Portland has created a designated bike crossing signal that allows cyclists to cross the street diagonally and connect to a popular route out of downtown.
Portland created a two-way route for cyclists to help navigate a tricky intersection leading into and out of downtown. It also serves the Rose Garden where the Trail Blazers play.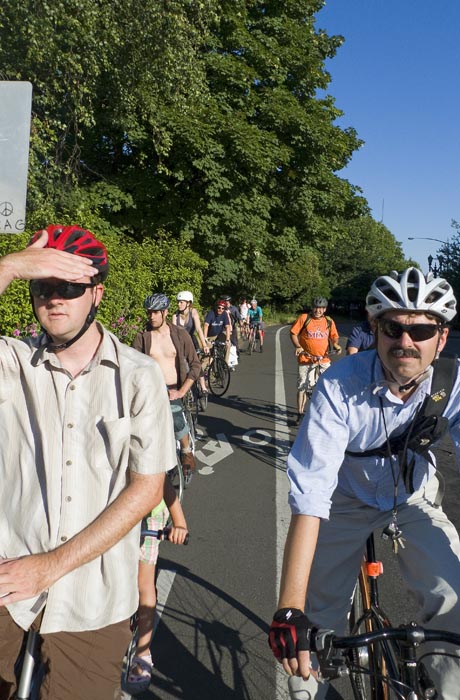 A collection of cyclists wait for the light to change. After the light changes many of the riders will sprint up the hill to beat the next light which is apparently timed in such a way that slower cyclists will miss it and will have to wait again.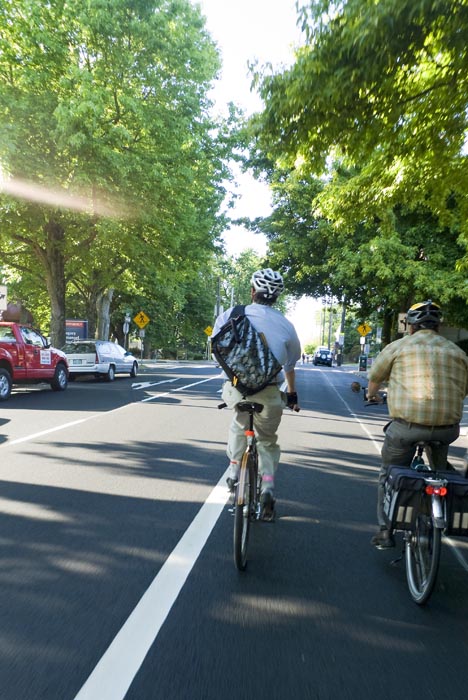 This is a bike lane that Durrant, left, worked with the city on to widen.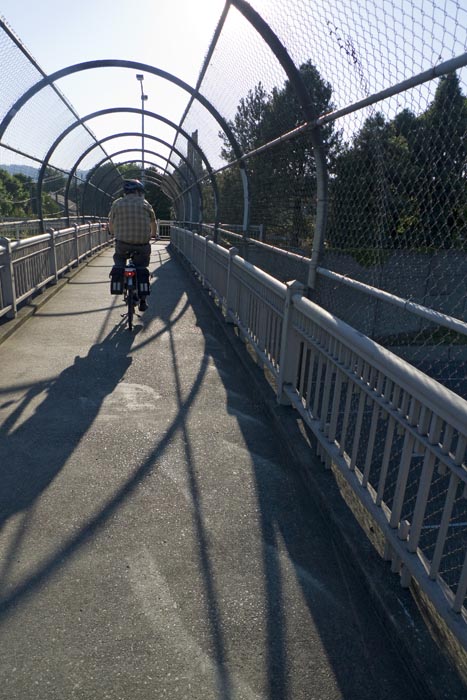 The city uses a few bridges over the freeway to connect bike boulevards to one another.
These cutouts allow cyclists and pedestrians to cross one lane of traffic when it is clear and wait for a clearing in the second lane of traffic.
My impression of Portland is that the infrastructure helps get people to ride, but that the real motivator is that driving in Portland is a pain. Because the roads are small and there are several choke points getting into and out of downtown, it makes cycling a time saving and cheaper option.
The city of Portland is about 50 square miles smaller, but has roughly the same number of people living in it, according to the U.S. Census Bureau. It is clear, though, that they haven't build their city and their roads to handle more and more cars. Instead, they have decided to build infrastructure that supports a mix of transportation modes.
Portland appears to be thinking about the future, while Tucson is often thinking about the here and now. We can do everything Portland has done, we just have to have the political will and the support to get it done.
View all the images from trip HERE.