The biannual Fourth Avenue Street Fair can be a real pain for bicyclists.
Not only does it essentially close Fourth Avenue to biking, it snarls traffic around the area making it more dangerous to ride through that part of town. People are looking for parking spaces instead of bikes and pedestrians.
It is a joy to ride Fourth Avenue after the fair has closed down and people have gone home, though. (Check the map below for suggested routes to bypass some of the craziness.)
The Fourth Avenue Street Fair organizers also attempted to push the city into abandoning the center island streetcar stops to preserve a few booths during the two-weekends a year festival at the expense of cyclists safety. That attempt was thwarted.
All that being said, there were a couple neat bike related things happening at the street fair today.
1) Bike EMTs and Bike Officers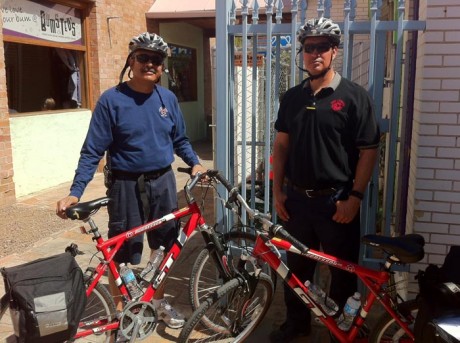 These two EMTs get around the Fourth Avenue Street Fair by bike instead of walking or driving.
They said they get a lot of calls for dehydration issues and it's a lot faster to hop on the bikes and cut through the neighborhoods that trying to walk or drive.
Tucson Police Department officers were also at the fair patrolling on bicycles.
2) Cool bike Swag
I am a sucker for anything with a bicycle on it. The three items above came from a San Diego based company called Urban Octopus. This is the first year they have come to the Tucson street fair. The owners, cyclists themselves, said they were surprised by how many cyclists they saw in Tucson.
Here's a few alternate routes:

View Untitled in a larger map