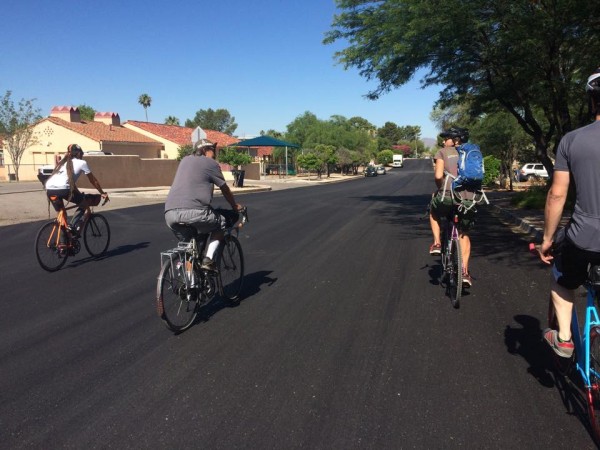 Looking for a relaxed ride that explores Tucson at a relaxed pace, but doesn't start late at night like the Tuesday Night Bike Ride?
Enter the "Ordinary Ride" organized by Bicycle Tucson sponsor Ordinary Bikes.
Ride leader Nate Woiwode said the ride usually hits The Loop or heads to a Tucson Landmark and is at a relaxed conversational pace. He said the ride is a bit faster than the TNBR, but any bikes with two wheels is perfect.
They usually ride between 10 and 20 miles.
Here are the details for this week's ride:
What?

We'll ride the Aviation Bikeway out to Tucson's east side to "The Boneyard", an airplane graveyard on the Davis Monthan Airforce Base. The Aviation is pretty nice and shady. You'll beat the heat back to 4th Avenue for some breakfast.

When?
We meet up at 7:00AM, the ride takes off around 7:15AM. We'll be back at around 9:00AM.

Where?
We meet at Ordinary Bike Shop.

ANY BIKE WILL DO! We won't drop you out in the middle of nowhere or anything. This is a fun and social ride. It's a little pacier than the Tuesday Night Bike Ride, but still conversational.

We always strongly recommend that you bring a helmet and follow the rules of the road.

We're also gonna do a few raffles this week, you'll pick a card at the beginning of the ride and we'll pick the winners once were back to Ordinary Bike Shop.