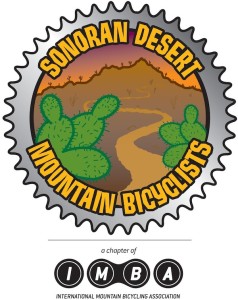 Sonoran Desert Mountain Bicyclists is going to have a shiny new tool trailer and cash to perform survey work to support new trails in Tucson Mountain Park thanks to an REI grant.
The mountain bike advocacy organization applied for $5,000 to purchase trail-building trailer to house all their equipment.
REI awarded the group $10,000 and SDMB plans to use the additional money to help build new trails in Starr Pass.
Here's SDMB's announcement:
Earlier this year, SDMB was invited to apply for a $5000 grant from REI.  As it turns out, they liked the work we are doing so much that they are giving us $10,000!  Grant funds will help us purchase a much-needed trailer to store and transport our ever-growing cache of trail building tools, and will allow us to help fund the biological and archeological surveys for the upcoming trail development at Starr Pass this fall.

From REI:  "Congratulations! The Sonoran Desert Mountain Bicyclists have been awarded a $10,000 grant from REI to support the construction of 5.5 miles of singletrack in Tucson Mountain Park.

We are excited to provide your organization with funding, but more importantly we are committed to strengthening our partnership. Working together, we hope to build greater awareness of your efforts to care for and increase access to the outdoor recreation places where our members and customers play, as well as REI's investment in your organization."