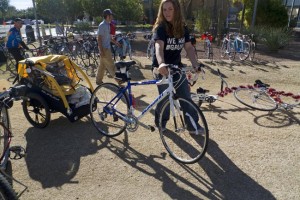 Cyclists who bike to the Reid Park Zoo can get in for free on Saturday. The first 300 cyclists will also get a free scoop of ice cream. The event is organized by GABA.
Here are the details from GABA's site:
What: GABA's Annual Bike 2 the Zoo 4 Ice Cream Ride
When: Saturday, April 16
What: Join GABA for one of four rides from around the city or show up on your own. Free entrance, ice cream and bike valet will be provided. Check the rides here.
How it works: Show your bike and helmet to the zoo ticket booth and they will allow you into the zoo where you can utilize the free bike valet, which operates from 9 a.m. – 3:30 p.m. GABA will provide ice cream to the first 300 riders.