Kids and their families will hit the streets for the first ever Kidical Mass in Tucson on Saturday.
Kidical Mass was created by Eugene, Ore. cyclist Shane Rhodes in 2008 and is designed to be a safe and fun ride through a neighborhood that puts an emphasis on getting families riding bikes.
Tucson's first Kidical Mass will start at Himmel Park Library  on Saturday at 10 a.m. and will ride to and around the University of Arizona and return to the library for ice cream and treats.
Here's an excerpt from the press release:
Families will practice pedaling with the kiddos during this short, leisurely, inaugural ride and help put Tucson on the Kidical Mass Map! Participants are encouraged to bring their helmets, however a limited supply of children's helmets will be provided for FREE.

Families can also decorate their bikes in advance for increased visibility and for the fun of it. All kids will receive stickers and temporary "Kidical Mass Tucson" tattoos. This is a family-friendly, law-abiding ride designed to bring families together and ride safely as a group. Volunteer ride leaders and sweepers will be present to assist in making sure no one is left behind, but all parents are asked to take responsibility for their children on the road for the safety of all.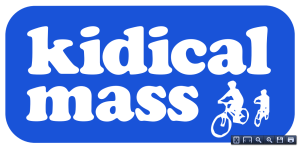 Here's how Kidical Mass got its start:
Kidical Mass was born in April of 2008 in Eugene Oregon.  The early morning brainstorm was a combination of wanting to get more kids and families excited about riding and wanting to put together a little event to celebrate Ted White coming to town (White is creator of, Return of the Scorcher (1992), a documentary about bike culture that first coined the term "critical mass," and, We Are Traffic (1999), a film that chronicles the often misunderstood and controversial ride).  We wanted to do something different than the traditional Critical Mass ride and Shane coined the term "Kidical Mass" (though he's sure it has been used before).

Shane MacRhodes — who manages the Safe Routes to Schools program for a Eugene-area school district and has been active in the bike advocacy world for 15 years says "The bike movement has grown up, and now it has kids!"
This event is part of Bike Fest 2012 and being organized by Living Streets Alliance.
I'm extremely disappointed that Luci and I won't be able to join the ride. If anyone goes, I'd be very appreciative if you'd send me some photos.