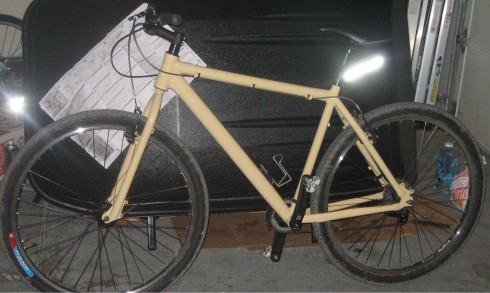 Make: Nashbar
Model: [model]
Color: beige
Serial # :ICFJ8H08861
Purchased: nashbar.com
Where stolen: Harvill Building U of A Campus (off Olive north of 2nd)
Time: 12:50-1:50pm
Date: 31 August, 2012
Type of lock: heavy cable
Report #: U1208310009
Unique traits: no front brake, SRAM x9 rear derailluer, rear tire by CTS, front tire by WTB, lizard skin chain guard, 21″ frame, black water bottle cage, N-gear jump stop on seat tube.
Theft description: I went to class at around 12:55 and returned to my cable cut at around 1:55. It was towards the northern third of the bike racks at the NW corner of the Harvill Building. Someone must have been searching for bikes to steal and walked up with a cable cutter because it was a clean cut. I cannot afford to buy a new mountain bike since I purchased it while in the military when I still had a decent salary. I have to park far off campus because I live about 20 miles to the east and cannot afford to pay for parking so I rode in from off campus. If you see a rigid 29er with a large frame please contact UAPD or TPD. I just want the trash that stole my bike punished. I would pay a reward to get it back unharmed, but I really cannot afford to I know most people don't care enough about others to just do it out of the kindness of their hearts. I guess growing up in the midwest made me naive and serving my country made me expect more out of my fellow man. Then I moved to this "great" city and had my car broken into twice and now my bike stolen. It is enough to make you lose all faith in humanity.