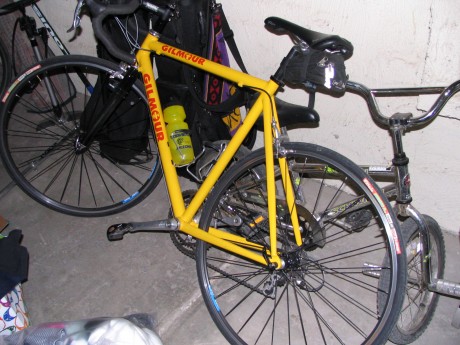 Make: Gilmour
Model: [model]
Color: Yellow
Serial # :
Purchased: Gilmour
Where stolen: Whole Foods parking lot Speedway, Tucson
Time: 12:00 pm
Date: 3/25/2012
Type of lock: none, taken off car trunk carrier
Report #: 1203250436
Unique traits: Yellow, aluminum, red lettering.  Regular bike pedals as i had just removed my clip ons.
Theft description: Custom Gilmour road bike, aluminum, yellow with red lettering, thinking 54, excellent condition.  Stopped for 10 minutes at Whole Foods on Speedway 3/26/2012 at approximately 12:00pm.  Had just completed Triathlon and bike was in trunk rack unlocked.
Email Mikey if you spot it.