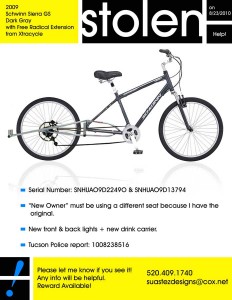 Email Jose if you spot his bike.
I had my bike stolen today (8/23/2010)

It is a  gray,Schwinn Sierra Gs with a free radical extension (from xtracycle) it is a brand new bike.

I'm 100% sure the new owner has a mismatched seat on it because I had the original removed to discourage the robbers to steal it…did not work!

Serial No: SNHUA O9D22490 and/or SNHUAO9D13764 (we bought two bikes and we don't know which one is the one stolen)
Check out Tucson Velo's guide to preventing bike theft and the steps to take to try to recover it if it is stolen.