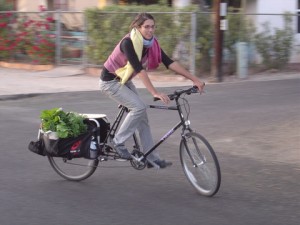 I had this email forwarded to me by a reader:
Hello all —

A bike was recently stolen from behind my residence on Palo Verde Blvd. The bike was a black Trek frame with an XtraCycle extension (making it visibly different than most bikes). There is a photo of the bike attached in this message. Note: the current handlebars were different that in this photo.

If you happen to see this bike around, or anyone riding the bike, please call me immediately, anytime: 520.668.8560.

Thank you  ……  and make sure your bikes are well locked-up!

–Brian
Give Brian a call if you spot his bike.