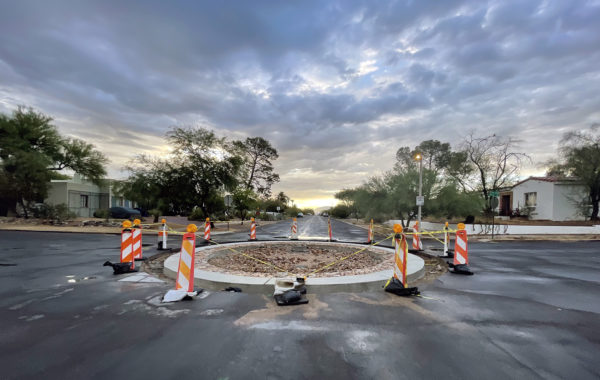 Soon cyclists riding on the Third Street Bike Boulevard won't have to look over their shoulders for police before rolling through the intersection at Treat Avenue.
The City of Tucson Department of Transportation is adding a traffic circle and removing the stop signs on the popular bike route.
Ryan Fagan a project manager for the city said the stop signs on Third Street would be removed sometime later this summer or in the early fall. The change will allow cyclists riding east or west on Third Street to bike through the intersection without stopping. Cyclists heading north and south on Treat Avenue will be required to stop.
This is not the first time cyclists thought they would no longer have to worry about getting ticketed during a Tucson Police Department sting at the intersection. The City said they planned to remove the stop signs in 2013 following the installation of speed tables, but it never happened.
Sky Jacobs rides through the intersection several times a week and despite being one of the cyclists pulled over by TPD about five years ago he still rolls through the stop sign after looking carefully to make sure it is safe.
"It is such a pain, so I feel like it is worth risk to blow through it," he said.
Jacobs isn't the only one.
"I have never seen someone come to a complete stop there unless there was a car," he said.
The routes are two of the most heavily trafficked areas in the city according to bicycle counts conducted over the years and the targeting of cyclists by TPD has long been a sore point for the cycling community.
Jacobs said he was thrilled to learn the stop signs will be a thing of the past.
"It seems like a silly stop sign on a premiere bike route in Tucson," Jacobs said. "I'll feel very happy and relieved that I don't have to worry about it anymore."
Fagan said traffic circles and signage changes are just a few of the many improvements along the Treat and Third bike boulevards. Other improvements include new and upgraded Bike HAWKS, chicanes, speed tables and other signage changes.
The project is part of the Proposition 407 improvements package approved in 2018.
Learn more about the project at the city's website.