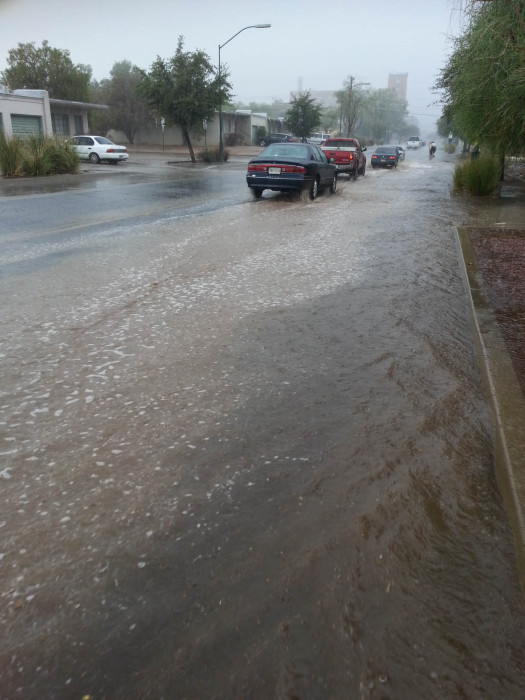 While the forecast doesn't show many monsoons on the horizon, they are coming and these tips will help you be prepared.
1. Prevent flats:
The monsoons wash debris in the bike lane as well as promote the growth of the infamous "goat heads". In order to prevent flats, consider loading up your tubes with some Slime or the newer Stan's Tire Sealant both of which can be purchased at you local bike shop. We are partial to our sponsors of course. You can also add tire liners, which add a layer of thick rubber between the tire and tube to help prevent flats.
2. Be prepared to change a flat
You'll probably get a flat tire, especially if you don't take preventative measures. Take one of BICAS' basic maintenance classes, which will go over how to change a flat tire. The class is $20 and they happen to be hosting one tomorrow. You can also check out the video below to learn how to change a tire. We suggest practicing several times at home so you feel confident enough to do it on the side of the road. You can purchase the spare tube, pumps and tire levels at your shop.
3. Wait out the storm
If at all possible, wait for the storm to blow over. Generally the monsoons move through the area pretty quickly. Visibility is lower, which makes it harder for motorists to see you. Additionally the rain can often hide the shoulder on the streets.
4. Create a rain route
Certain streets in Tucson always flood when it rains. Map out which streets do a better job draining the water and use those as alternatives.
5. (For the drivers) Slow down and stop splashing people
This is for the drivers out there. We know you want to get where you are going, but if you see a big puddle and a bike, slow down for 10 seconds to avoid splashing the bike rider.
What monsoon biking tips do you have? Share them in the comment section.