Editor's note: Bicycle Advocate, Kylie Walzak, sent me what she describes as "musings" about her pre Thanksgiving two-mile challenge. I thought it could be applicable on Black Friday. Maybe a two-mile challenge Black Friday excursion is order. 
The idea of getting into a car to run last minute Thanksgiving Eve errands literally made my head hurt. The traffic would be insane, people would be distracted frantically thinking through their last minute to-do lists, and almost all of west/ southwest downtown Tucson was under some kind of construction. So I decided to do my entire errand running by bike, not something all that unusual for me but I did have a rather eclectic to-do list and it wasn't immediately apparent to me that I would find everything I needed close by.
But that was only part of the motivation.
I'm actually crediting El Tour de Tucson for this little adventure. If it hadn't been for the training, the early morning start and the really hard riding for 111 miles I had done last Saturday my immune system probably would have been healthy enough to stave off the crud that eventually overtook me Sunday night sinking me into sinusy, fevery, coughing nastiness for the last few days.
While convalescing I decided to watch the HBO documentary The Weight of the Nation. If you haven't watched this free, four-part series I strongly encourage you to. There may not be much in there you don't already know, but each and every doctor, advocate, and personal interview is beyond compelling. At times even hard-core advocates need a little inspiration or a reminder of why we overwork ourselves into the occasional bout of sickness, and this documentary was it for me. For others this documentary can be a much needed wake up call especially as we head into the indulgent holiday season.
Today, Wednesday, I finally felt healthy enough to stretch my legs a bit. Inspired by the recent Grist article by Elizabeth Kwak-Hefferan I looked at my whacky Thanksgiving list and tried to think about all the places within two miles of my house that might have what I needed/ wanted (as in the case of the African Violet).
I know what you're thinking and yes, this is a very trim little list for the day before Thanksgiving and that is due to a number of factors which I now realize are imbedded into a life already lived mostly by bike. First, we aren't hosting Thanksgiving at our house, rather attending a neighborhood potluck-style feast which is common in the little westside barrio where I live. Second, I had already picked up a few of the heavier things I knew I needed when I was out running errands, in my car (I was sick, remember), earlier in the week. Those details aside, the stuff on this list is just weird enough to make for a fun, and thought-provoking adventure on bike.
As suggested by Kwak-Hefferan, I tried to think of opportunities to visit businesses I hadn't before, like the West Boutique Florist on St. Mary's (it was closed when I stopped by at 3:45pm. I was really hoping they'd have my violets).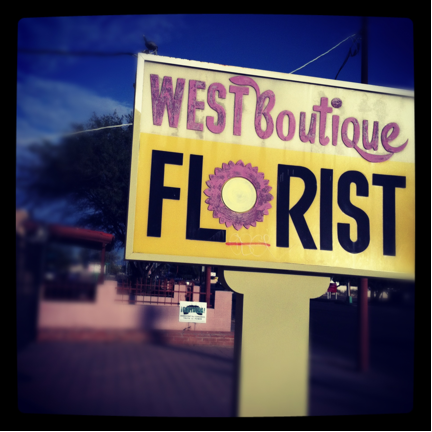 Google was a really helpful tool, just like Kwak-Hefferan said it would be, in planning my route. Stopping at several different stores and shops just to see if they carry the thing you're looking for isn't practical on a bike or on foot when you have a long way to walk and a lot to carry. I made a few phone calls, looked up a few directions and had a plan. At first I thought I might actually walk everywhere, but who was I kidding. I LOVE riding my bike, plus with an Xtracycle or other cargo hauler it's much easier to haul home cases of empty Ball jars.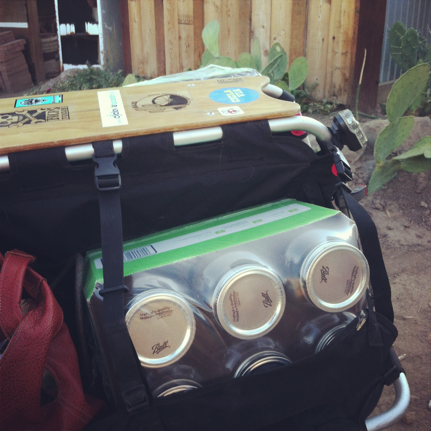 My first stop was unplanned and my many weeks of bike touring should have taught me to expect this. I was thinking I would get our Thanksgiving host a plant of some sort since he's a big fan of cacti and succulents but I thought I would find his gift at the West Boutique Florist, which was one of my last planned stops. Instead, I found his gift here at Ecogrow just off St. Mary's in the Wildcat Storage units.
Brad, one of the owners, was friendly and he potted the Euphorbia in a pot I picked out for free. He was totally fine with me coming back to pick up the plant later, since it wasn't in the plan to cart around a delicate cactus for the duration of my trip. We talked about the impending Downtown Links construction, the installation of a new Toucan crossing at Davis St. and St. Mary's (or just east of) and I told him about my two-mile challenge and how his business wasn't on my list but when I saw it I decided to stop. In a car I probably never would have stopped at Ecogrow because St. Mary's traffic just starts to pick up speed along that stretch and it seems too much of a hassle to turn in there. Brad was great and I'll definitely be back there again.
Next stop was the Fourth Avenue Food Co-op. That was an easy one and definitely helped tackle the eccentric items on my list, like a Neti pot. I will say that with each trip I make to the Co-op I find more and more bicycles parked out front to the point where we are going to need much more bicycle parking once Streetcar construction is finished.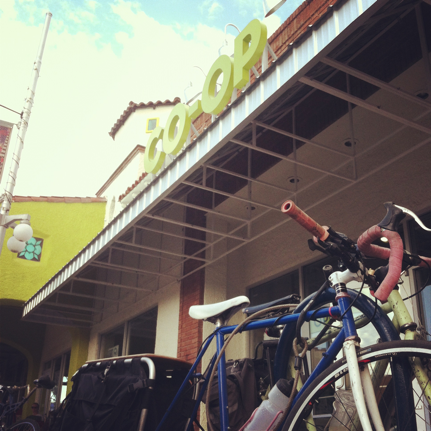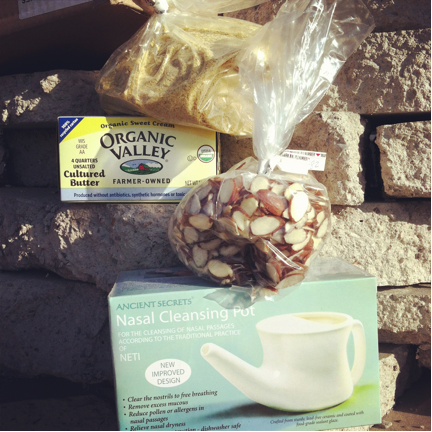 Up to this point every dollar I spent was at a locally-owned business, part of this was planned but as in the case of Ecogrow, some of it was unplanned. In general though it's easy to support local businesses that are located near you when you are on foot or bike when you make it a priority and incorporate it into the plan.
After the Co-op I wound my way through Fourth Avenue construction to arrive at Goodwill where Granite Construction Company, under the direction of the Streetcar Team had fenced off bike parking. Annoying.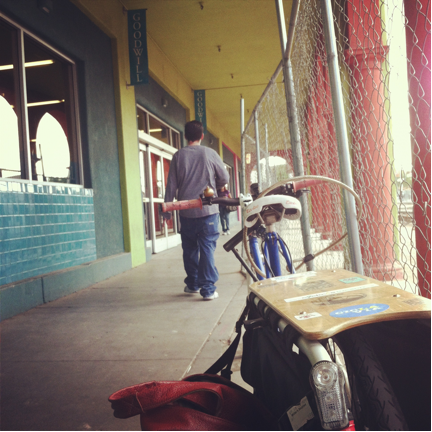 But I did find several glass forcing jars for my Paper Whites, which if you come to the BICAS Art Auction December 2nd you can buy and take home with you. They won't be ready to bloom for a few weeks yet, obviously.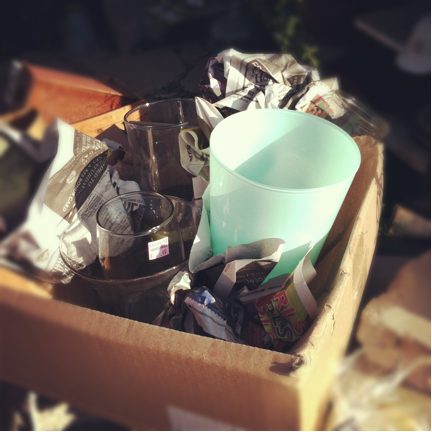 I also found an adorable little red tricycle (NOT on the list!) that will be put to good use for something at the Art Auction.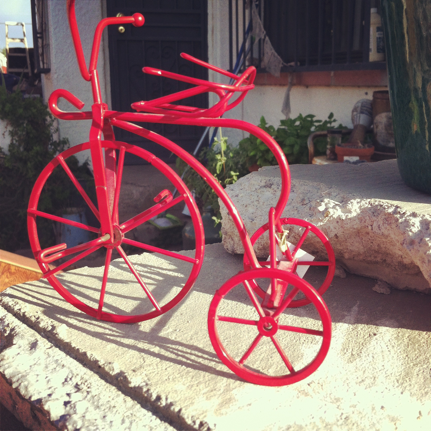 After Goodwill I had a tough decision to make. I pedaled back through the alley behind Goodwill to Seventh Avenue. Just as I had thought, traffic was nutty even by bike standards. And I say by bike standards because bicyclists who frequently use their bikes for errands know not to take the same roads as cars for many reasons. Traffic is one of them, but often times we can get places faster by taking shorter routes. My next stop on the list would take me to Mercado San Agustin on the other side of Congress and I-10, but I needed to pick up the cactus first as I wouldn't be going back to the west side via St. Mary's (my least favorite road on my commute. I avoid it at all costs.) So I picked up the cactus then traveled south on Granada to Congress then over to the Mercado where I bought a tin of Pipian Rojo Mole powder hand-ground by my neighbor, Amy, from Mano y Metate. This was cool because now, not only was I buying local, I was directly supporting a friend, neighbor and community member.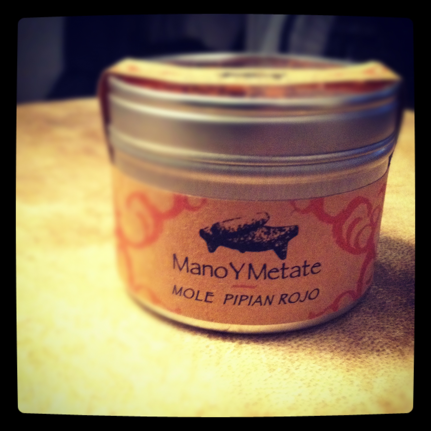 At this point I was almost done with my list. I stopped at home to drop off the things I'd already purchased, then rode out to the Safeway on St. Mary's and Silverbell Road to get aluminum foil and a Christmas Cactus (my concession for not finding African Violets near my house).
My last stop was at Ace Hardware on St. Mary's and Grande, an intersection full of pedestrians yet one of the most unsafe, unfriendly and frightening intersections to bike or walk through. I didn't even bother taking pictures of the Catholic nun in full habit alongside the half dozen or so people walking in the crosswalk who had just gotten off the Sun Tran and the cars nudging to get past them. I was too focused on getting through the intersection as quickly as I could.
FYI, I know many of you will be relieved to know that you can find almost every size of empty Ball Jars at your local Ace. Go to Ace before you go to Home Depot and support them if you can because they really are the last thing we have to a neighborhood hardware store.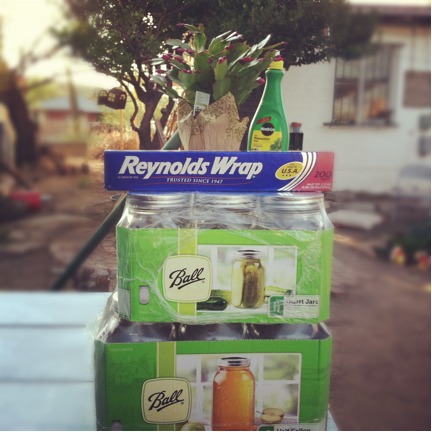 As it always is whenever I ride my bike, today's two-mile challenge was a fun, efficient way to get my work done and get some exercise. I finished my errands with enough time to write this article and prepare and eat dinner. I know having children complicates things, which is why I'm always impressed with families who continue to ride with their kids. But for the most part, with a little thinking and planning ahead making the effort to ride or walk to the store and run other errands isn't too difficult to incorporate into life, especially here in Tucson where we have lovely weather five months out of the year, flat terrain, and ever improving choices for bicyclists and walkers.