Editor's note: This post was written by Colby Henley one of Tucson Velo's newest contributors. Henley is a daily bicycle commuter and advocate.
Dear Jimmy John's,
In early April of this year, I wrote to Zachary, the manager of the store at Campbell and Copper Street, pointing out the lack of bicycle parking. In the email, I mentioned the prime location of this store next to the future Bike Boulevard along Copper  Street and how bicycle customers are great for local businesses, and then offered the contact information for the City's bicycle & pedestrian coordinator. Zachary replied to my email promptly and agreed that adding bicycle parking would be a good thing. I also wrote a post for the local Tucson Velo blog.
I followed up with another email to Zachary in May to see if there was any progress in installing bike racks. At the time, some of the final touches (such as landscaping) were still being done around the new store and I acknowledged that Zachary was probably pretty busy just managing the store. So, I offered help in selecting a good location for the racks and help in finding a supplier. I did not get a reply to that email.
During my latest visit, I again noticed that one of your employees has to lock his bike to the pipe next to the utility pole.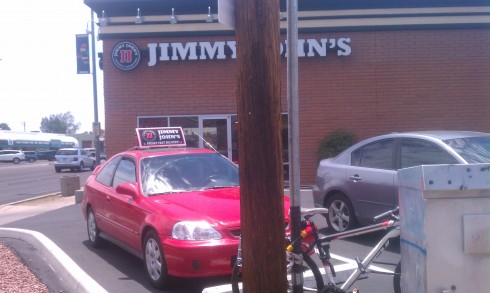 I also see plenty of room for few "staple" bike racks in front of the parking or on the blank concrete pad or gravel area near the drive-thru.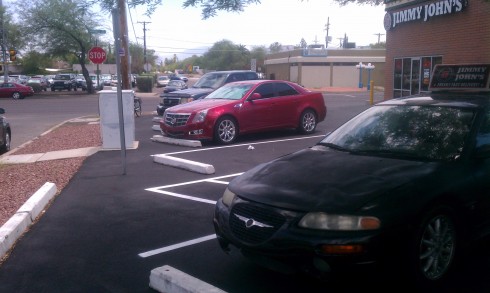 So today, over three months after my initial contact, I'm writing again to make a request for bike racks and to offer help. I hope you value my business enough to accommodate my preferred mode of travel.
Colby Henley