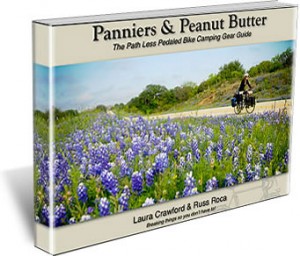 Russ Roca and Laura Crawford were only five months into their bike tour around the United States when they visited Tucson.
In the time since they stayed with me and my family, they have made their way across the county to rural Pennsylvania. Russ and Laura have incredible insight into the tools, tips and tricks needed to have a successful bike tour.
The couple have released an e-book sharing what they have learned.
Here is a description from their site:
After nearly 14 months of traveling the US on bicycles, we have finally put together a comprehensive guide to all of our gear, with great photos from the last year, and road-tested tips that we've discovered along the way (how to find electricity on the road, the virtues of the tortilla, etc.,) Today, it is available to the world!

We're really excited to release Panniers & Peanut Butter and we hope that it makes bike touring more accessible and inspires you to put together your own touring gear, finagle the time, and hit the road!

Panniers & Peanut Butter is 75 pages long and goes way beyond a simple list of our stuff, or even a technical look at the pros and cons of different items. It's chock-full of photos, tips, stories, lessons – and probably everything you could want to know about all of our gear.
As someone who wants to get into bike touring, the guide was immensely helpful. Check out the book on their website.