We'll resume regular news posts tomorrow, but I wanted to take a moment to be a proud papa.
Santa was good to me this weekend. I got some really great bikey things including; a belt made from bike tubes, several great bike-related books, a mobile sound system for my bikes and an amazing custom head badge.
The greatest gift, though, was seeing Luci "ride" her first bike. Santa brought Luci a Wishbone Bike, which is actually a push trike and bike in one.
Eventually — when Luci is ready — I'll remove one of the wheels and make it a two wheeler. I'm convinced that teaching kids how to ride using balance bikes rather than using training wheels is the way to go. Plus, this way I was able to get her on a bike sooner.
Check out this post over at Utility Cycling about teaching kids to ride using balance bikes.
I had low expectations about how well the trike would go over. In fact, I didn't even think she was tall enough to push the bike on her own. I figured I'd have to push her around on it for a while.
I was thrilled when she got on the bike and did this:
Every time she sees it, she smiles and is getting better every time she gets on it.
Here is a photo of the great head badge Irene got me. She ordered it from Laura Crawford of Path Less Pedaled.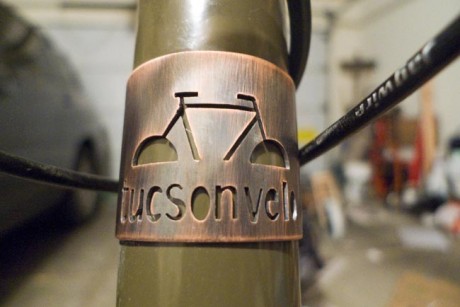 I guess since the head badge is JB welded to the bike I'll have to stick with Tucson Velo for the long haul. Thanks for reading.
Did you get any good bikey things for whichever winter holiday you celebrate?