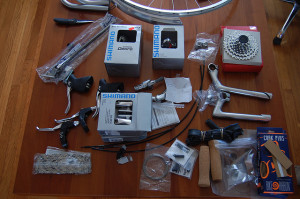 I prefer to shop locally whenever I can and when I'm looking for bike parts, I head to one of my sponsors to get them.
Yesterday I was hunting for a pair of Ergon grips for my new mountain bike. I stopped by two of my sponsors looking for the grips and neither of them had the model I was looking for.
I ended up picking them up at REI, which had them in stock, but were about $10 more than Amazon.
I wanted them for my ride tomorrow and I had a gift card so it was a fairly easy decision. REI isn't exactly local, but they do employ a lot of Tucsonans as opposed to places like Amazon.
Sometimes however the price differences are much bigger, which can make the decision harder.
Bikes tend to be harder to buy online because of rules in place by the bike manufacturers and because riding the bike before hand is important.
I have a friend who says he is willing to pay a 15 percent premium to local retailers, but beyond that he is going to buy online.
It got me wondering about how people decide to buy locally or online. Is it entirely a decision on price? Does service factor in? Like me, wanting it today versus next week. How do you decide if you are going to buy locally or online?