The City of Tucson restarted the hiring process to fill the vacant transportation director position after the candidates that applied did not meet their standards.
This time around, the city created a hiring brochure being sent to candidates around the country detailing the position and its requirements.
The brochure includes several references to the importance of bicycles.
Ironically, one of the main images on the front page of the brochure features road racers rather than transportation bicyclists.
Here's the image: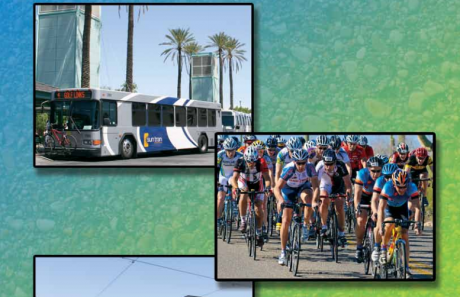 The first paragraph references bicycles several times.
With a population of 520,000, the City of Tucson is Arizona's second largest city located approximately 100 miles south of Phoenix and 60 miles from the Mexico border. Tucson's metropolitan area exceeds one million people. With sunny days nearly all year, Tucson is the ideal location for the outdoor enthusiast. The Sonoran Desert and five surrounding mountain ranges offer hiking, biking, horseback riding, bird watching, spelunking, hot-air ballooning, camping, championship golfing, skiing, and countless other recreational opportunities in breathtaking scenery. Tucson is a pedestrian and bicycle friendly community. Due to the temperate climate, the region is a bicycle enthusiast's paradise and has been designated a Gold Level Bicycle Friendly Community by the League of American Bicyclists.
Bicycles are mentioned yet again in the breakdown of the Department of Transportation.
Our City is one of the friendliest bicycle communities in the country and has applied for platinum status (one of three in the country) through the League of American Bicyclists. Bicycle ridership increased 58% from 2009 to 2010 in Tucson, moving us from #12th in the country for bicycle commuting to #5th ranked.
Pedestrians were also mentioned in the brochure:
Our pedestrian network is also increasing with a new task force formed to highlight and improve pedestrian safety and connectivity.
Download the entire brochure here.