Editor's note: Freelance writer Scott Lunt spends his cycling time piecing together impromptu loop rides and running occasional errands. Soaking in the Tucson sun since 1994, he can be found two-wheeling around town on his Bacchetta Giro 20 recumbent.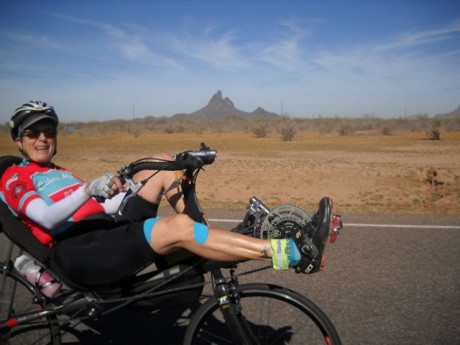 The wide open spaces of the Southwest are perfect for a cyclist like Susan Reed who loves to go the distance. Reed and her husband recently moved to Tucson after living in the Midwest for about 40 years, and she's thoroughly enjoying the area's diverse cycling opportunities.
"After riding in Chicago, this is heaven," she said, noting that the distance between intersections in Tucson makes it easier to get in an actual ride instead of the stop-and-go urban riding in Chicago.
"I wake up in the morning and say 'How far do I want to go and how many feet do I want to climb today.' Then I choose one of a gazillion routes I can do based on the answers to those two questions."
Reed also likes the fact that if she wants to ride with other people, she can almost always find a group or organized ride happening somewhere in the area.
Reed does some commuting and errand-running, but she really enjoys riding long distance and has racked up about 12,000 miles annually for the past few years. Among her list of long rides, she's completed two transcontinental Pacific-Atlantic-Cycling tours and several brevets and permanents. Most recently, she completed the Owl Buttes 200k, the Gila Bend 200k and the Lost Dutchman Twin 200's.
She also placed first in the 111-mile women's recumbent category in the 2011 El Tour de Tucson.
"I've been doing a lot more brevet activity down here and that's been a lot of fun," she said.
Reed rides a Bacchetta Ti Aero recumbent. After enduring multiple back surgeries in the '90s, she found that upright bikes wouldn't work for her anymore. The Ti Aero is her fourth recumbent.
So with 365 days of blissful weather and hundreds of miles of varied riding opportunities, is there anything she does not like about riding in Tucson?
"Can you do something about thorns?" she joked, adding "I'm a happy camper. It's hard to come up with anything I would want to see different."