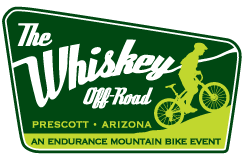 Editor's note: Travis Woodruff is a Tucson-based cycling coach (USA Cycling certified Level I Elite Coach) and founder of Momentum Endurance, a coaching business. Travis provides training columns to help you take your cycling to the next level. If you would like more personalized service, contact Travis. Read more about Travis and his coaching in Tucson Velo's Q&A.
Goals are a big part of riding and racing.  They challenge us and spur us on when we might otherwise not follow through.
Some events do a better job of drawing participation and challenging riders to be diligent with their training – such as El Tour de Tucson or Tour of the Gila. I'm going to add another such event to the bucket list: The Whiskey Off-Road.
This was certainly "the big one" for many Arizona mountain bikers along with hundreds of others who came from out of state for the Prescott event on April 29th-May 1st.
At 47 miles long and with over 6,000 feet of climbing the 50 proof race course inspires. A route of this caliber is more fun with more fitness, so with more training in the bank, there is more fun available on race day.
I arrived to the start line feeling ready for the race, things went relatively smoothly and I was very happy to finish 8th overall. Knowing that I (and everyone in front of me) had finished faster than the previous course record confirmed that it was a quick and incredibly challenging race.
Hard work and diligent training had paid off. I had so much fun out there and enjoyed every ounce of suffering along the way. Like most others at the finish line regardless of finishing time or place, I was completely drained, yet somehow the rush of finishing such a demanding race was very fulfilling.
The challenge of the 50 proof course helps to make the event all that it is. The people at Epic Rides (the Tucson-based event promoters) really have this event figured out.
It's the perfect high priority goal event for amateurs and pros alike.
The distance and terrain is certainly challenging, but not crushing for a rider who is able to commit just a little more energy to their training.
The climbing is relentless, but the descending makes it all worthwhile. The aid stations break up the route nicely and help keep riders going strong, and the downtown start/finish area is alive with music and festivities all weekend long. The sense of bike community is alive and well with three days of exciting events.
Having a goal race is important. It will keep you motivated and inspire you to do more than you might think is possible.
A goal race will help keep you focused and upon finishing there is a big sense of reward for your hard work. If you were on the fence and happened to miss out on the Whiskey Off-Road this year, I would encourage you to participate in 2012.
If the 50 proof might be too much or if you've never raced before, the 25 or 15 proof options would be great.
If you're not into mountain biking now, this is the perfect event to try out and chances are you'll be hooked.
Here's to goal setting, hard work, and the fantastic weekend at the Whiskey Off-Road!