Editor's note: Freelance writer Scott Lunt spends his cycling time piecing together impromptu loop rides and running occasional errands. Soaking in the Tucson sun since 1994, he can be found two-wheeling around town on his Bacchetta Giro 20 recumbent.
Cycling on the east side of town will soon get a little easier and safer with the completion of road improvements on Speedway Boulevard between Camino Seco and Houghton roads.
The ride out to the east end of Speedway is popular and has always been one of my favorites, so I'm looking forward to this — particularly the section between Harrison and Houghton roads where the shoulder disappeared. There wasn't much room and drivers would often get impatient with cyclists, angrily gunning their engines as they passed much too closely. I generally avoided riding that stretch after experiencing a few white-knuckle moments, which included an incident when some yahoo threw something at me and yelled "Get off the road!"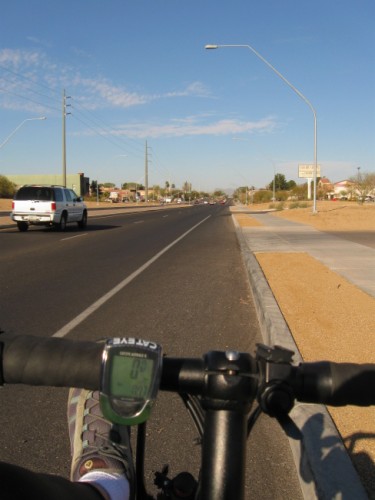 The project is widening Speedway by adding two more travel lanes, a median, bike lanes and a sidewalk.
The project description page on the Tucson Department of Transportation Web site says that the improvements will "promote alternative modes of transportation."
The improvements also include new traffic signals, pedestrian crossing signals, drainage improvements, landscaping and public art.
Traveling on Speedway east of Houghton you lose the bike lane, but there's also a lot less traffic.
The project started in September 2010. The section between Camino Seco and Harrison Road is complete. According to Fred Felix, the project manager for TDOT, the rest of the road east of Harrison Road should be finished by early June of this year.