Editor's note: This post was written by Colby Henley one of Tucson Velo's newest contributors. Henley is a daily bicycle commuter and advocate.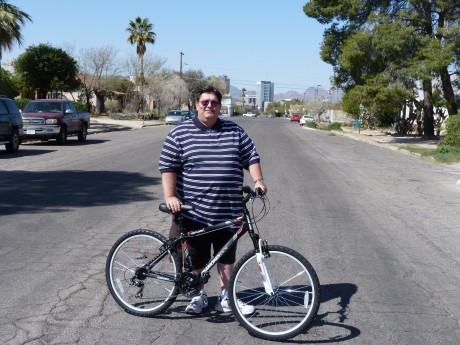 I want to introduce you to my brother, Wade. He just bought a bike with the hope of pedaling away some pounds and building up his fitness and stamina. I talked with him about how he got to this point and where he hopes to go.
Wade says he's been somewhat overweight for most of his adult life, but he really started gaining several years ago. On his latest doctor visit he weighed nearly 330 pounds.
"It really got bad when I took a job as a long-haul truck driver," Wade says. "I would drive up to 10 hours a day, without a day off for up to three weeks straight."
He says that while he tried to eat lots of fruit, much of his diet consisted of pre-packaged meals or fast food. And exercise was out of the question.
After four years, Wade left the trucking business. In a tough job market, but armed with a commercial license, Wade got a job in Tucson doing non-medical transport, mostly for foster kids.
"I really like interacting with people and this job lets me do that." he says. "But I'm still facing a job where I'm driving around all day with little time for healthy meals or exercise."
I asked Wade why he chose a bicycle as way to exercise and he says, "I know myself and I'm not the kind of guy who will go to a gym, so I need something that I can do on my own."
Wade also says that many other forms of exercise, even walking, hurt his feet and knees.
Wade, who hasn't ridden a bicycle in over 20 years, took his first test rides up and down the block last weekend while I helped him adjust his saddle height and angle.
"I was nervous at first, but then kind of surprised at how quickly it came back. Still, I'm not comfortable enough to ride on main thoroughfares with heavy traffic."
He doesn't have a set regimen but hopes to take some regular spins through the University of Arizona campus and slowly work up to longer rides.
Wade says he doesn't have a set weight loss goal, but is mainly looking to lose so that he can be more comfortable and in better health.
Feel free to share any words of advice or encouragement for Wade.