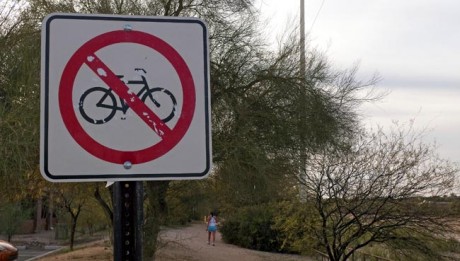 In the last year a disturbing trend has been forming in our community.
People, businesses and interest groups have been mobilizing to put the kibosh on bicycle projects with astonishing success.
Most notable was Jean Gorman's vision for a small park for cyclists along Catalina Highway.
Residents in the area started an uproar and succeeded in getting the project moved to a park several miles away from the original location. Residents near the park didn't want to cyclists there either. Eventually they managed to get the project killed completely.
While that may be a simplified version of of what took place, the fact is — cyclists lost. They lost for no other reason than people didn't want us there and their voices were louder.
The trend continued with the various interests groups' goal to designate areas in the region as "wilderness," which would keep mountain bikers off long-established trails.
The city's covered bike parking at Himmel park was removed because one neighbor didn't like the way it looked and said he couldn't sit in his house and watch his grandchildren play in the public park.
He convinced the neighborhood association to vote to remove the shelter. The city took it down the next week
Now the business community is fighting bicycle parking requirements and residents near the Rillito River are fighting the creation of a divided path, which would benefit many people in the community, not just bicyclists.
In the case of the river path (which happens to affect my own neighborhood) residents are doing everything they can to prevent the project from happening. They have been disseminating false information and organizing massive opposition.
According to Nanette Slusser, the county's assistant county administrator, all of the key players are still on board with moving forward with the project, but the opposition is making it politically difficult to do so.
She said at the start it was 10-1 in support of the project, but now it is 10-1 opposition. When asked if the project could still be killed she said, "I'll never say never."
The bicycle parking issue has been put on hold for another month as the committee in charge of the new regulations attempt to rectify other issues with the vehicle parking code.
The writing isn't on the walls for these projects, cyclists can still win. But to do so, we must mobilize and speak with a unified voice.
We have it good here. We have people like Matt Zoll, the county's bike and pedestrian program manager and his City of Tucson counterpart, Tom Thivener, to look out for cyclists, but they need our help.
We've got entities like the Tucson-Pima County Bicycle Advisory Committee to advocate for the cyclists in Tucson and Pima County, but they need our help.
We have other various groups who do what they can, but each of them can only do so much. They need help. They need voices.
There are thousands of us, but too often we don't make ourselves heard.
I may not ever use a BMX park, but it should be supported because everyone deserves a safe place to ride.
BMXers should care about bike lanes because it helps get them to their new park and helps others get to work.
Road riders should care about preserving trails four mountain bikers because at some point they will need the favor returned.
Being a member of a community like this one means you protect and look out for each other. To be effective, we  need to make our voices heard in larger numbers.
What we are talking about now is preventing projects from being built, but what happens when people start opposing existing bicycle infrastructure? What happens when people start trying to ban bikes from Catalina Highway? Will we remain silent then?
You can get involved by attending BAC meetings, watching this site for calls to action, emailing both Zoll and Thivener and asking them to alert you when they need a voice of support.
To help, I have created a special section of the site as well a special twitter account specifically for calls to action in the bike community. If you check into the site everyday, you'll see the post on the homepage like normal, but if you are an occasional reader, you can subscribe via RSS or Twitter to specifically get posts about when your voice is needed.
Please share this with your cycling friends and ask them to get involved. We can accomplish a lot when we work together and make our voices heard.