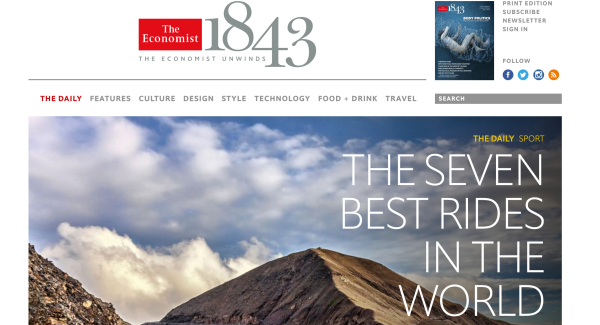 Mt. Lemmon is often cited on lists extolling the best rides in the country, but today ended up on a worldwide list.
The Economist Magazine included the ride from the desert floor to Summerhaven as one of the seven best rides in the world.
Here's what the magazine had to say about the climb in our backyard:
Mt. Lemmon, Tucson, Arizona

Tucson ranks in the top ten sunniest places in America, which has helped make it the country's premiere go-to winter cycling destination. For a sprawling city, it is surprisingly bike friendly, and one could spend days riding gorgeous desert loops in the eastern section of Saguaro National Park, or joining up with the city's legendary "shoot-out", a punchy Saturday group ride. But the city's real draw is Mt. Lemmon. It is not the country's highest or toughest climb by a long shot, but what it offers, across several dozen miles and some 7,000 feet of elevation gain on the Catalina Highway, is a wonderfully curving, generously shouldered, steadily rising (4-6% average grade) route from the hot desert floor into cool, thickly timbered ski country – with endless Cinemascope views and eerie rock formations the whole way. It is two hours of flow-state-bliss on two wheels. Just be wary of the desert: I did not drink nearly enough, and paid mightily for it the following day.
Check out the other six rides and be impressed Tucson is among them.