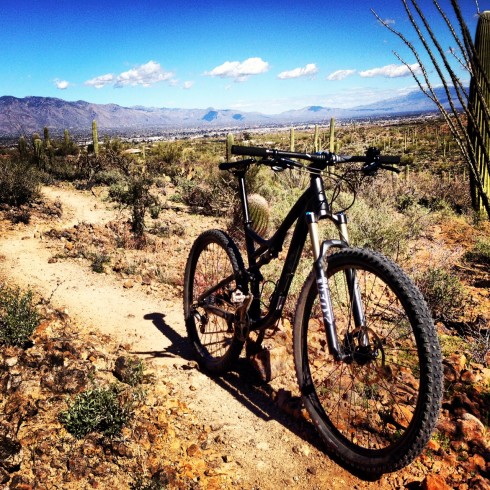 Moments after snapping this photo, I ended up chin first and body second into a prickly pear cactus. Welcome back to mountain biking in Tucson.
You may remember my mountain bike was stolen a while back. I finally got its replacement. After seeing all the posts from the 24 Hours in the Old Pueblo, I couldn't wait anymore. I had to get back on the dirt.
As it turns out, it was a painful reunion.
First a little about the bike. Its a Specialized FSR Comp 29er. I made the switch from a hard tail 29er to a Full Suspension. I rode another full suspension bike and didn't like it because it felt like I was riding a recliner. As it turns out, that bike had a ton of travel.
A friend recently made the switch and was convinced that the the full suspension allowed him to ride longer distances without being so fatigued.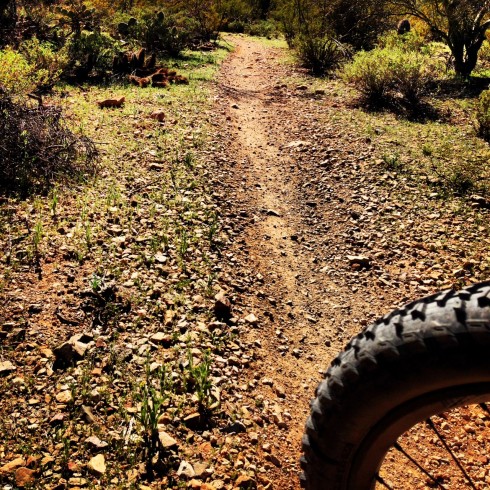 After a few rides, I too, am a convert. I feel more confident and despite being woefully out of shape, have hit a few personal records in Starr Pass and Sweetwater. I have found it to be slower when I get out of the saddle to climb. I've also found I need to do that less because I can get up and over things easier.
For me though, it's less about the PRs and more about enjoying the ride. I've found the bike be amazingly comfortable and fun to ride. I'm glad I made the switch to Full Suspension.
Now, about that cactus. Shortly after hopping back on the bike I was adjusting a piece of equipment with my right hand and grabbed a little to much front brake with my left. Over I went chin first into the prickly pear. My whole body ended up in the thing.
The first thing I felt when I got up was cactus in my lips. Not pleasant. I spent the next 40 minutes on the side of the trail pulling tiny cactus needles out of my clothes and body. There were so many needles stuck to my shorts, that I  tossed them in the garbage.
Two days later and I still finding needles stuck in my leg, hips and back.
Welcome back to mountain biking in the desert. It hurt and still does, but I'll be heading to Starr Pass today, though I'll have a new pair of shorts.