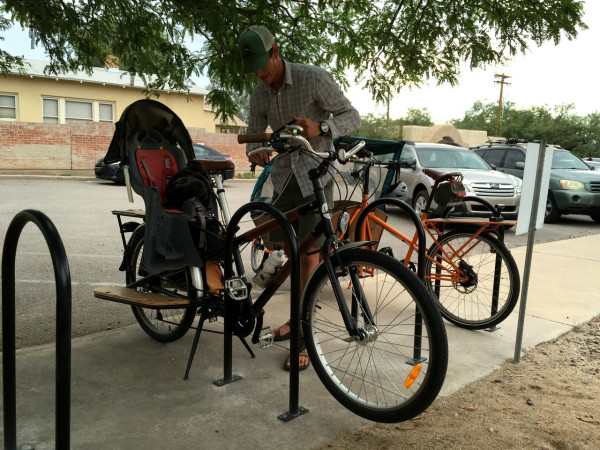 I wrote about the City of Tucson's program to improve bike parking by providing existing businesses with free bike racks when it launched back in 2013.
We also wrote about the 25 business who requested racks a month after the announcement, since then the city has provided about 120 racks to local businesses according to the city's bike and pedestrian manager Ann Chanecka. The funding is regional and businesses in the county are also eligible. I haven't written about the program since 2013, but it is still going on and I recently had a first-hand experience with utilizing the program.
There are several families who ride with their children to the preschool that my son attends. Two weeks ago I was approached by one of the families who also bikes their daughter to school about getting bike parking installed at the school.
They had investigated purchasing some racks and were going to start trying to raise the money to buy them, but I remembered the city's program and decided to apply for the city racks.
I downloaded the guidelines and then contacted the city's new bike and pedestrian planner Andy Bemis to request the racks.
He took a quick look at the area via a satellite map to make sure it looked like an acceptable location to install the racks before scheduling a site visit two days later.
The rules require the racks are publicly accessible and are located within 50 feet of the entrance.
Our desired location for the racks fit the guidelines and Bemis delivered four racks and mounting hardware an hour after the site visit.
In addition to our preschool the racks can also serve the church that our preschool is housed in during the week.
The city could not install the racks because they were not being installed on the public right of way so a parent with a construction background installed them using the hardware provided by the city.
From contacting Bemis to installation, the process took five days.
If you know of a business that needs some bike parking, give the city's program a try. It certainly seemed like a seamless process for us.