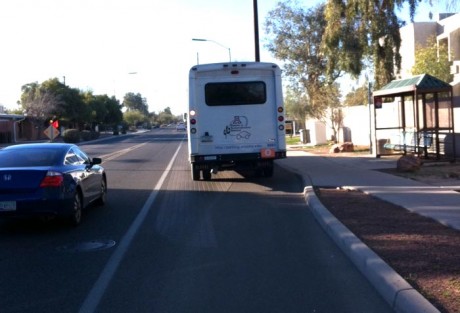 Sometimes it's the small things that make a big difference when it comes to bike commuting.
Take the photo above as an example. That's a University of Arizona CatTran shuttle, which in itself is pretty great. It offers rides to students and employees all around campus helping them move around without cars.
The shuttle you see here runs people from a parking lot at Ft. Lowell and Mountain to campus.
The trouble is, the UA has created a timed stop for this particular shuttle at the stop just south of Ft. Lowell and Mountain Avenue. Because it is a timed stop, the driver is required stay at the stop until a specified time regardless of whether students are waiting or not.
I'm a fairly confident cyclist and feel comfortable merging into traffic, taking the lane and passing the shuttle, but I've seen many less expericned cyclists freak out and not know what to do. Some merge without looking. Some get on the sidewalk and go around and still others stop behind the shuttle trying to figure out what to do.
It may seem like a small detail in the grand scheme of UA transportation, but it make a big difference in someone's commute.
I've called the UA's Parking and Transportation director who said he would look into alternative options, but did not say he would change it. I don't expect it to change overnight, but the small details matter when trying to convince more people to ride and feel safe.
What seemingly small things make a a big difference in your bike rides?