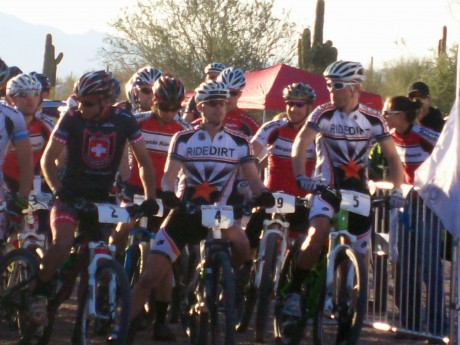 Editor's note: Karilyn Roach wrote this post. She holds a MS in Urban Planning from the University of Arizona and works as a Program Coordinator with Watershed Management Group, a Tucson non-profit. She currently sits on the Tucson-Pima County Bicycle Advisory Committee and rides a Jamis Aurora Elite.
Cyclists participated in the second race of the MBAA, Mountain Bike Association of Arizona, 2012 race season on Saturday. The White Tank Whirlwind was held at the Competition Track in White Tanks Mountain Regional Park in Waddell, west of Phoenix.
Krista Park, who trains in Tucson, took first place for the Pro Women once again. First place for the Pro Men went to Mimmo Futia, who rides for Swiss American Racing, a Phoenix area team. Full results are available here.
The next race, Hedgehog Hustle, will be held Saturday Feb. 25 at the Competitive Track in Estrella Mountain Regional Park in Goodyear, southwest of Phoenix.