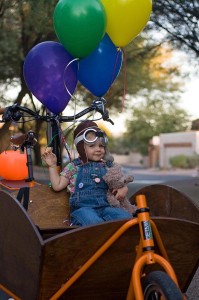 I'm assuming because you are reading this post, I don't need to extoll the virtues of bicycle riding.
I figure you already know riding a bike is a healthy, cheap, efficient and fun way to get around or exercise.
For me, though, it's the little joys that aren't among bicycling's major talking points that have been bringing a smile to my face lately. My "bike joys" as I am dubbing them have  reminded me why I love riding my bike.
The first is the smells. As strange as it may sound, riding home in the evening as people are cooking dinner, there are all sorts of delicious smells that waft into the streets. It gets me imaging other people's lives and connects me to the people who live along the roads I ride.
In a car I'd never experience it the way I do on a bike.
The second is when you notice something on the ride you've taken a thousand times, but you until that moment missed seeing. It's almost the opposite of deja vu. Sometimes it's a house or a plant or a fence. It can be anything at all really, but all of a sudden one day you notice it and it's like it just appeared, though you've been riding by it everyday.
I'm not sure why I enjoy that feeling so much and I suppose that could happen in a car, but in a car you are so disconnected from your surroundings, I don't think it would be as profound.
What I really want to know however is… What are the unexpected joys riding a bike brings you? What's your bike joy?
If you are a twitter user, use the hashtag #bikejoy to share yours.