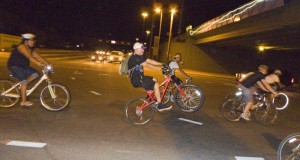 Tucson Police Department officers skipped last week's Tuesday Night Bike Ride because of the rainy weather, but are planning to speak to the riders this evening.
According to an email from TPD officer Bart Rohr, they skipped the ride last week because they were told the ride would be small or nonexistent because of the storm.
He said the department did not receive any 911 calls about the ride last week.
Jerry Skeenes said in an email that he and a few other officers are planning on speaking to the riders tonight.
Pima County's bicycle and pedestrian program manager said he would try to have a bike ambassador introduce the officers before the ride.