It's been six months since Arizona Bicycle Experts packed up the store and moved to a new location on the northeast corner of Treat Avenue and Speedway Boulevard.
ABE's owner Michael Stimpson said he's been looking for a new building for eight years and is thrilled with the new location.
"It's not that we hated the old location, but we needed to have better access," Stimpson said. "My dream location was a corner on Speedway or Grant that has our own parking that is a stand-alone building.
He said all the buildings he had been looking at were much bigger than the old location. 
"We didn't want to get bigger, we just wanted to get better," Stimpson said. We didn't want get too big for a britches or change our business; just make it so people could get to us or find us easier."
The size of the new location is similar to his old location, but had a parking lot, more traffic on Speedway, and the added benefit of being on a future bicycle boulevard.
"Being on a bike boulevard has been great because we get people riding back and forth to work, which is a big chunk of our business," he said.
The walk-in business has increased dramatically making the store more consistently busy.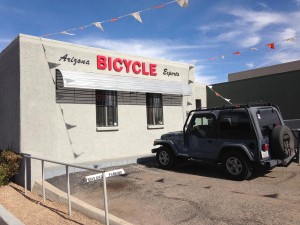 "Before, one week we'd be really busy because we would get a lot of people coming in and the next week we would be more mellow," Stimpson said. Where now we are just kind of steadily busy especially during the summer. It really made a big difference."
Because of the increased walk-in traffic the shop decided to open an additional day. ABE is open Monday through Friday from 10 a.m. to 6 p.m. and Saturday from 10 a.m. to 4 p.m.
Stimpson said his shop focuses on mountain biking, touring and commuting .
"At heart I'm a touring person and I love mountain biking so commuting touring and mountain biking are our focus because that is where my passion is," he said. "I feel privileged to be small business owner in this industry and make it. This is my dream job owning my dream business."