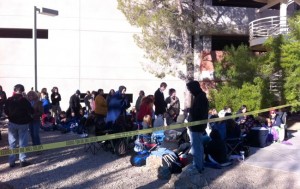 The Tucson-Pima County Bicycle Advisory Committee meeting scheduled for 6 p.m. tonight has been postponed to next week.
The meeting was canceled because of the memorial being held for the Saturday's shooting victims. The memorial will be attended by President Obama.
The BAC meeting has been rescheduled for Jan. 19th at the ParkWise Conference Room, at 110 E. Pennington, in downtown Tucson. The meeting starts at 6 p.m.
If you plan to attend the memorial service tonight, there is limited bicycle parking to the north of the basketball arena. Larger bicycle parking areas are located along the UA mall.
No word if there will be valet bicycle parking provided.